Parts Washer Sink features stainless steel construction.
Press Release Summary: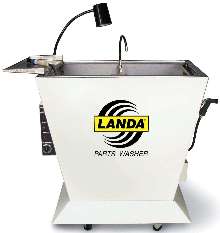 Portable Rebel hot-water, parts-washer, Model REB-3626D, features 36 x 26 in. sink, tank, and cabinet made of 304 stainless steel; vertical, seal-less pump that tolerates particles in wash water; and 4 industrial-duty casters. Below sink, 21 gal sump is totally enclosed for heat retention purposes. Trigger-activated spray gun lets users clean parts without having to remove them, while simultaneously capturing wash water. Unit includes oil skimmer and work light.
---
Original Press Release:
Landa Unveils Stainless Steel, Hot Water Parts Washer Sink
Landa, North America's largest manufacturer of pressure washers and parts washers, has introduced a hot water parts washer sink that eliminates the need for harmful, ozone-depleting solvents. The Rebel parts washer (Model REB-3626D) is extra-rugged with its sink, tank and cabinet all made of 304 stainless steel. It features a time-tested, vertical seal-less pump with a high tolerance for particles in the wash water minimizing the need for the maintenance often associated with parts washer pumps. The Rebel is also portable with four industrial-duty casters so it can be moved easily around a shop or even wheeled under a vehicle raised on a rack. Then, using the Rebel's trigger-activated spray gun, the underside of the vehicle can be cleaned without having to remove the parts-while capturing the wash-water at the same time! The stainless steel sink measures 36 by 26 inches, large enough for most parts and sturdy enough to handle weights of up to 250 lbs. It has a flat bottom so nuts and bolts don't roll to the center. Below the sink is a 21-gallon sump that is totally enclosed for increased heat retention. The Rebel also includes, among its standard features, a metal work lamp, a magnetic tool/parts holder and a flow-through scrub brush-items that are typically available only as options on most parts washer sinks. Other standard features on the Rebel include: o Water-resistant, control panel that is hinged for easy servicing and provides convenient access to the water temperature thermostat and switches for the pump, heater and oil skimmer as well as a low-water warning light; o Automatic oil skimmer, with stainless steel disc, for easy and safe removal of suspended oils floating in the sump with a sloped trough for depositing of oil in a collection container; o High-efficiency, 1250W calrod heating element is protected by an incoloy sheath for long life and reliable heating of the water up to 140-degrees F. (operates on 120V and uses only 13 amps); o Automatic low-water shutoff to protect the heater from turning on and being damaged should the water level in the sump drop too low (an automatic fresh water fill valve is available as an option); o Durable stainless steel parts tray and magnetic bar are attached to the side of the sink for convenience in placing tools and small parts. In addition to the auto fill valve for protection against untimely shutdowns, options include a 24-hour heater timer, air-powered cleaning brush and a portable filtration system for further increasing the life of the cleaning solution. Landa, a leader in the cleaning equipment industry since 1969, has been manufacturing parts washers since 1994. For more information, contact Crismon Lewis, 800-547-8672, Ext. 175.