Parts Cleaner Exhaust System reduces moisture loss.
Press Release Summary: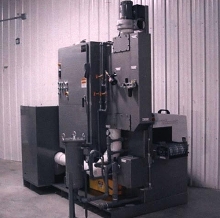 Exhaust Moisture Reduction System for parts cleaning systems minimizes moisture escape, enhances part drying, and conserves water, chemistry, and energy. It works with aqueous based parts washing systems that rely on spraying heated water. Exhaust system pre-warms incoming make-up water and blow-off air, and directs exhaust moisture back to solution tank. Exhaust air can be vented directly to plant atmosphere, eliminating need for ductwork and roof penetrations.
---
Original Press Release:
Alliance Introduces "Exhaust Moisture Reduction System"

Alliance Manufacturing Inc., Fond du Lac, WI, a manufacturer of parts cleaning equipment introduces the "Exhaust Moisture Reduction System" for use with parts cleaning systems. This system was designed to minimize moisture escape from parts washers and conserve on energy consumption.

Many aqueous based parts washing systems rely on spraying heated water to clean soiled parts. The combination of heated water and spray impingement will generate steam, which needs to be exhausted. In most applications, the steam generated is exhausted from the washer via ductwork to a point outside the plant. With this patent pending system, exhaust air can be vented directly to plant atmosphere under the proper conditions. Potentially eliminating costly ductwork and unwanted roof penetrations.

The "Exhaust Moisture Reduction System" conserves on water, chemistry, energy and enhances part drying. This unique exhaust system pre-warms incoming make-up water, requiring less energy for heating and aids in maintaining a more uniform solution temperature. Blow-off air is also pre-warmed aiding in part drying. In addition, the system conserves on water and chemistry by directing exhausted moisture back to the solution tank.

For more information regarding the "Exhaust Moisture Reduction System", please call Alliance Manufacturing Inc. at 1-800-969-7960.

1368 Capital Drive Fond du Lac, WI 54937
800-969-7960 920-922-8100 Fax 920-922-9500
www.alliancemfginc.com E-mail: sales@alliancemfginc.com


More from Electrical Equipment & Systems