Particulate Hood protects firefighters against toxins.
Press Release Summary: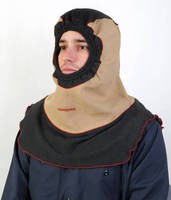 Designed with firefighter input at all stages of development and testing, NFPA 1971-certified Life Guard Hood blocks hazardous, carcinogenic particulates in both air and water. Breathable, multilayer, composite material and roomy design safely promote flow of air around head and neck, while balanced Thermal Protective Performance and Total Heat Loss design supports dry and comfortable wear even after hours of use. Inspection port lets users completely turn hood inside out to assess barrier.
---
Original Press Release:

Honeywell Introduces New Life Guard Hood for Fire Fighters Featuring Innovative Design to Better Protect Against Toxins



Dayton, Ohio — Honeywell (NYSE: HON) today announced the new Honeywell Life Guard Hood for fire fighters that features an innovative, patent-pending design and proven fabrics that provide better blocking protection against hazardous particulates compared to traditional hoods.



The new Life Guard particulate hood is Honeywell's latest breakthrough in safety and comfort for first responders. Replacing the traditional "sock hood," the Life Guard Hood delivers new laboratory-proven levels of particulate-blocking protection with a lighter, more roomy fit that integrates with self-contained breathing apparatus (SCBA) and turnout gear to ensure the highest level of comfort and safety.



"Honeywell has leveraged its considerable resources in collaboration with the firefighting community to develop a particulate-resistant hood that adds an extra layer of safety to the traditional one worn by first responders on the fire ground," said Ken Schmidt, vice president and general manager of Honeywell First Responder. "Life Guard Hood reflects Honeywell's deep commitment to provide firefighters with solutions that enable them to perform at the highest level, while protecting their long-term health and safety."



New building materials have made structure fires far more hazardous. Modern synthetics release lethal gases and toxins when burned. Studies show that the skin and glands of the neck and face are especially prone to absorbing toxins, and some cancer rates have now been proven to be higher for firefighters than the general population.



Cancer is the most dangerous and unrecognized threat to the health and safety of our nation's firefighters, according to the Firefighter Cancer Support Network (FCSN). Specifically at risk are the face, the angle of the jaw, the neck and throat — yet the most permeable piece of personal protective equipment is the hood.1



The particulate-blocking protection of the Honeywell Life Guard Hood is laboratory-proven in Fluorescent Aerosol Screening Test (FAST) testing by RTI International. In testing, the Life Guard Hood provided dramatically advanced protection from particulates versus a 2015 International Association of Fire Fighter (IAFF) test by RTI showing very heavy deposits on the head and neck areas that resulted with the use of a standard knit hood.2



Fire Smoke Coalition President Jason Krusen said, "When training first responders around the country, we receive many questions about how firefighters can protect themselves better from the toxins that are present in fire smoke. Hoods such as Life Guard go a long way towards protecting responders better from airborne toxicants and particulates, and reducing the long-term health risks."



Designed with fire fighter input at all stages of development and testing, features of the new Honeywell Life Guard Hood include:



Blocks carcinogenic particulates in both air and water.

Highly-breathable multi-layer composite material, coupled with a roomier design that promotes the safe flow of air around a user's head and neck, yields a greatly improved wearing experience

Balanced Thermal Protective Performance (TPP) and Total Heat Loss (THL) design supports a drier, breathable and comfortable wear — even after hours of use

Materials with proven durability yield a long wear-life and reduced cost of ownership.

Inspection port enables users to completely turn the hood inside out to inspect the barrier.

Patented Mask Mate™ face opening better fits the shape of air mask and provides a wider field of vision.



The new Honeywell Life Guard is NFPA 1971 certified. For more information on the new Honeywell Life Guard particulate blocking hood, visit www.honeywellfirstresponder.com/en/products/hoods/life-guard-hood .



Honeywell (www.honeywell.com) is a Fortune 100 diversified technology and manufacturing leader, serving customers worldwide with aerospace products and services; control technologies for buildings, homes and industry; turbochargers; and performance materials. Based in Morris Township, N.J., Honeywell's shares are traded on the New York, London, and Chicago Stock Exchanges. For more news and information on Honeywell, please visit www.honeywell.com/newsroom .



Honeywell Industrial Safety (HIS), part of Honeywell Automation and Control Solutions, helps organizations manage workplace safety. HIS offers the broadest range of industrial safety products — from personal protection gear for a worker's eyes, ears and heads, to fall protection harnesses and respiratory protection, software, first-responder gear and toxic and combustible gas monitors that protect the lives of workers — anywhere they are at risk — while also protecting the operations of their companies. Honeywell First Responder Products is the leading manufacturer of head-to-toe personal protective equipment. With more than 270 patents, we drive innovations for the unique needs of first responders globally. We take great pride in our technological advancements and our product development process that starts and ends with input from the firefighters who safeguard our communities and face the dangers of the fireground every day. www.honeywellfirstresponder.com



1 "Taking Action Against Cancer in the Fire Service," Firefighter Cancer Support Network (FCSN), August 2013, http://firefightercancersupport.org/wp-content/uploads/2013/08/Taking-Action-against-Cancer-in-the-Fire-Service.pdf.  Honeywell supported the printing and distribution of FCSN's 2013 white paper and is a partner for FCSN's ongoing "Wash Your Hood Sunday" campaign. Honeywell did not have editorial input on the white paper's content.



2 Fluorescent Aerosol Screening Test Report, Research Testing Institute (commissioned by the International Association of Firefighters, January 2015, http://www.firesmoke.org/wp-content/uploads/2016/02/RTI+Test+Report+-+Fluorescent+Aerosol+Screening+Test+-+2015.pdf



Media Contacts:

Don Goncalves

Tiziani Whitmyre Public Relations

781-793-9380

dgoncalves@tizinc.com



Don Galman

Honeywell Industrial Safety

+1 847.955.8389 (direct)

+1 312.545.3524 (mobile)

don.galman@honeywell.com

More from Packaging Products & Equipment