Particle Sizing Probe offers granulation monitoring.
Press Release Summary: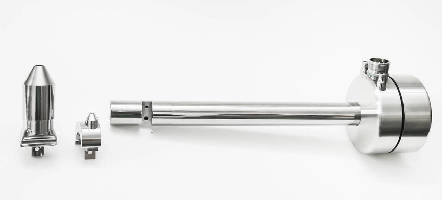 Featuring measuring range of 50–6,000 µm for powders, pellets, and granules, Parsum IPP-80 enables real-time monitoring of agglomeration, coating, and granulation processes. Inline probe includes built-in self-diagnostic tools and uses spatial filter velocimetry to provide continuous particle size and size distribution data. With no moving parts and stable optics, sanitary stainless steel unit is resistant to vibration, requires no manual alignment, and is specified for hygienic environments.
---
Original Press Release:

The New Parsum IPP-80 In-line Particle Sizing Probe: Robust, Trouble Free Granulation Monitoring



Malvern, UK – The new Parsum IPP-80 probe from Malvern Instruments brings easy to integrate inline particle size measurement for efficient process monitoring and control. Suitable for powders, pellets and granules the new probe enables the real-time monitoring of agglomeration, coating and granulation processes. The resulting data provide a secure basis for pilot plant studies, process optimization and control. A robust, sanitary design delivers long-running operation with minimal attention and includes in-built self-diagnostic tools that ensure data quality.



For many products, including many pharmaceuticals and foods, particle size is a performance defining characteristic. During granulation, for example, control of particle size may be vital, to ensure the production of granules that meet the requirements of subsequent processing steps and/or deliver the required performance in a finished product. Inline PSD measurement enables robust process monitoring and control. In the pharmaceutical industry these capabilities support the application of QbD, scoping of the Design Space and the development of continuous manufacturing in line with recent FDA guidance.



The Parsum IPP-80 inline probe provides continuous particle size and size distribution data, via the technique of spatial filter velocimetry. Measuring in the range of 50 µm to 6000 µm the probe is able to robustly analyze powders as well as pellets and large granules. It has been fully optimized to meet the rigors of the process environment and has no moving parts or user-accessible components. Extremely stable optics mean that the probe is resistant to the effects of vibration and requires no manual alignment. The software includes a range of diagnostic features for measurement verification and self-diagnosis to ensure trouble-free operation and safeguard data quality. The Parsum IPP-80 has been specified for use in an environment where hygiene is a priority and has a sanitary stainless steel design that is easy to clean with any conventional cleaning agent. It is ATEX certified for Zone 0/20 operation.



For more information on Parsum IPP-80, view the launch webinar here http://www.malvern.com/parsum-webinar



Malvern and Malvern Instruments are registered trademarks of Malvern Instruments Ltd.



About Malvern Instruments

Malvern provides the materials and biophysical characterization technology and expertise that enables scientists and engineers to understand and control the properties of dispersed systems. These systems range from proteins and polymers in solution, particle and nanoparticle suspensions and emulsions, through to sprays and aerosols, industrial bulk powders and high concentration slurries. Used at all stages of research, development and manufacturing, Malvern's materials characterization instruments provide critical information that helps accelerate research and product development, enhance and maintain product quality and optimize process efficiency.



Our products reflect Malvern's drive to exploit the latest technological innovations and our commitment to maximizing the potential of established techniques. They are used by both industry and academia, in sectors ranging from pharmaceuticals and biopharmaceuticals to bulk chemicals, cement, plastics and polymers, energy and the environment.



Malvern systems are used to measure particle size, particle shape, zeta potential, protein charge, molecular weight, mass, size and conformation, rheological properties and for chemical identification, advancing the understanding of dispersed systems across many different industries and applications.



Headquartered in Malvern, UK, Malvern Instruments has subsidiary organizations in all major European markets, North America, China, Japan and Korea, a joint venture in India, a global distributor network and applications laboratories around the world. www.malvern.com



Facebook: MalvernInstruments

Blog: www.materials-talks.com

Youtube: malverninstruments

Linked-In: malvern-instruments

Twitter: malvern_news

Google +: https://plus.google.com/+malvern



USA contact:    

Marisa Fraser

Malvern Instruments Inc.

117 Flanders Road

Westborough, MA 01581-1042  USA

Tel:  +1 508 768 6400

Fax: +1 508 768 6403

marisa.fraser@malvern.com

             

Please send sales enquiries to:

Alison Vines

Malvern Instruments Ltd

Enigma Business Park

Grovewood Road

Malvern, Worcestershire WR14 1XZ  UK         

Tel: +44 (0) 1684 892456

Fax: +44 (0) 1684 892789

salesinfo@malvern.com

More from Software