Particle Size Reducer processes small material samples.
Press Release Summary: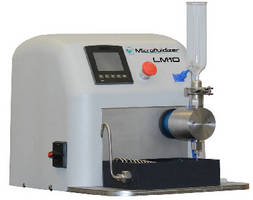 Converting pressure energy into shear and impact forces, LM10 Microfluidizer™ attains size reduction at low peak pressure. Micro-channel architecture of each interaction chamber enables linear volumetric scale-up for larger capacity processing. Stable pressure and constant volume processing produces narrow particle size distributions that enable high yield of active ingredients post-filtration/sterilization. Digitally controlled lab unit also includes maintenance reminders and operator alerts.
---
Original Press Release:

"NEW" LM10 Microfluidizer(TM) - Digitally Controlled Lab Unit for Small Sample Material Processing



Microfluidics International Corporation introduces the 'NEW" LM10 Microfluidizer™, a digitally controlled lab unit for small sample material processing.  The LM10 converts pressure energy more efficiently into shear and impact forces, attaining targeted size reduction at lower peak pressure, which results in less sample temperature rise during processing.  The micro-channel architecture of each interaction chamber enables linear volumetric scale-up for larger capacity processing, guaranteeing process performance at pilot/production scales, and minimizing additional development time.



The stable pressure and constant volume processing of the LM10 produces narrow particle size distributions that enable a higher yield of active ingredients post-filtration/sterilization.  Combined with a simplified fluid flow path, the LM10 offers the smallest sample size range of its class to reduce losses and experimental costs.



The new and enhanced digital pressure control interface of the LM10 provides a greater degree of repeatability within the design and implementation of experiments.  Additionally, integrated temperature measurement allows for real-time monitoring at different process points to improve   the reliability of experimental results, conclusions, and theories.



The LM10 maintenance reminder helps to keep the equipment in good working order, ensuring consistent size reduction, emulsion creation and cell disruption performance over time.  Operator alerts can also detect potential deviations from target process pressure set points, minimizing the chances of experimental error and possible maintenance issues.



Field upgradable firmware means the machine does not have to be sent back to the factory for software/feature upgrades, enabling future flexibility and adaptable feature enhancement.



For further details regarding the LM10, please visit:  http://microfluidicscorp.com/lm10



Microfluidics International Corporation

Telephone:  (617) 969-5452

Fax:  (617) 965-1213

mixinginfo@idexcorp.com

www.microfluidicscorp.com

More from Electrical Equipment & Systems