Parkson To Showcase Rotoshear® PF Rotating Drum Screen At The 2018 International Production & Processing Expo In Atlanta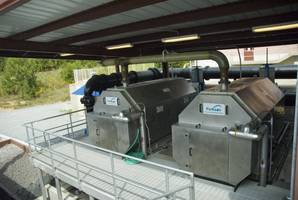 FORT LAUDERDALE, FLA. (PRWEB) JANUARY 25, 2018
Parkson will be exhibiting the Rotoshear® PF Rotating Drum Screen at IPPE's annual conference and exhibition from January 30 - February 1. The unit, which will be on display in booth C1014, is used for solid-liquid separation in offal, feather, plant effluent screening, and DAF pretreatment.
The internally fed screen features perforated plate screen media, which prevents bypass of solids larger than the screen opening and results in high capture rates. Its headbox is also designed to easily handle flow variations and surges. The Rotoshear PF offers operators easy access to all maintenance items and reduces downtime and maintenance costs. Made of stainless steel, its rugged construction ensures a long life for treating water in applications such as food processing, membrane pre-treatment, mill/plant effluent, product recovery, and scrubber water screening.
IPPE will be held January 30 - February 1, 2018, at the Georgia World Congress Center in Atlanta, GA. The show focuses on bringing together buyers and sellers of the latest technology of products and services and is expected to bring together more than 1,200 exhibitors and 30,000 visitors.
About Parkson: 
Parkson Corporation, with offices in Fort Lauderdale, FL; Golden, CO; Chicago, IL; Kansas City, MO; and Dubai, UAE, is a supplier of equipment and solutions for potable water, process water, and industrial and municipal wastewater applications. Parkson designs, engineers, and assembles the products it sells into the municipal wastewater and industrial wastewater segments. The company was founded in 1960 and has been owned by Axel Johnson Inc. since 1967.
About IPPE:. 
The International Production & Processing Expo (IPPE) is a collaboration of three shows - International Feed Expo, International Meat Expo and the International Poultry Expo - representing the entire chain of protein production and processing. The event is sponsored by the American Feed Industry Association, North American Meat Institute and U.S. Poultry & Egg Association. The show brings together more than 30,000 attendees from over 120 countries.
Related