Paratherm™ HR Heat Transfer Fluid: Higher Temperature Stability Leads to Longer Fluid Life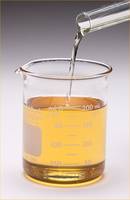 King of Prussia, PA - USA - Paratherm Corporation recently revised the engineering bulletin for the Paratherm™ HR Heat Transfer Fluid, for high temperature-range processing applications. The product is an alkylated-aromatic based heat transfer fluid formulated for closed-loop liquid-phase heating to 650°F in fired heaters and 675°F in waste-heat recovery and full convection heaters. With proper maintenance (an annual fluid analysis) the fluid has a lifespan of 5-8 years and targets industry applications including gas, plastic and chemical processing, waste-oil recovery and biodiesel production.
Significant benefit over competitive fluids was proven in the Standard Test Method for Thermal Stability of Organic Heat Transfer Fluids (ASTM D6743). The "bomb test" as it is commonly called, seals the fluid in a stainless-steel "bomb," and then heats it to a specified temperature for 500 hours, at which point the remaining fluid is analyzed for degradation. This testing shows that, compared to its closest competitor, Paratherm HR Heat Transfer Fluid experiences 1⁄2 the amount of fluid degradation when maintained at 700°F. Less degradation means less maintenance and longer fluid life.
Paratherm HR also has a substantial advantage over high-temperature competitors in delivering a lower start-up temperature of 13°F (-11°C). Centrifugal pumps are generally specified based on the fluid viscosity at the desired operating temperature. Capacity falls off significantly at viscosity values above the 300 cPs line. So the actual minimum start-up temperature is where the viscosity curve crosses the 300 cPs line.
For information on Paratherm fluids for hot and cold process applications – contact Andy Andrews (Andyan@paratherm.com) at Paratherm, 2009 Renaissance Blvd., King of Prussia, PA 19406. +1 (610) 232-7785, (Fax 610-941-9191), info@paratherm.com – www.paratherm.com.
Contact:
Andy Andrews
Paratherm - Heat Transfer Fluids
610-941-4900,
610-941-9191 FAX
Contact This Company Download Spec Sheet
Related