Gas and Chemical Sensors / Detectors
Paramagnetic Oxygen Sensor enhances medical device functionality.
Press Release Summary: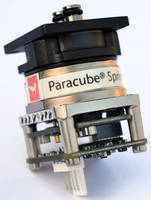 Measuring 43.3 x 30 x 33.5 mm, Paracube® Sprint has full measurement range of 0-100% O2 and is fast enough to reconstruct and monitor expired oxygen. Non-consumable design delivers measurement stability that eliminates need for daily calibration, while analog and digital signal outputs allow integration into various host instruments. Available with options for electrical/gas connector, sensor is suited for anesthesia, pulmonary function testing, and other life-critical applications.
---
Original Press Release:

Hummingbird Paracube® Sprint Oxygen Sensor Offers Major Breakthrough for Medical Oxygen Monitoring Technology



Crowborough, UK - Fast, reliable and ultra-compact in design, the brand new Paracube® Sprint from Hummingbird Sensing Technology is a major breakthrough in medical oxygen monitoring technology.

As the world's smallest fast response Paramagnetic oxygen sensor, measuring just 43.3mm(l) x 30mm(w) x 33.5mm(h) in size, the Sprint has been developed by Hummingbird to address the form factor issues that affect the design of end-user medical equipment. Using leading-edge manufacturing techniques, Hummingbird has been able to transfer the exceptional benefits of Paramagnetic oxygen sensing into an ultra-compact housing, immediately solving the considerable problems medical manufacturers face in integrating reliable sensing technology into limited space.

By delivering a full measurement range of 0-100% O2, the Sprint offers industry-leading levels of linearity, accuracy and reliability. Fast enough to reconstruct and monitor expired oxygen, enabling clinical decisions to be taken, the Sprint is suitable for all breath-by-breath applications. This fast and reliable response, combined with unrivalled performance and compact size, makes the Sprint the ideal oxygen sensor for usage in anaesthesia, pulmonary function testing and other life critical healthcare applications.

A non-consumable design provides zero ongoing cost of ownership and the elimination of daily calibration due to excellent measurement stability. While both analogue and digital signal outputs enables system integration into a variety of host instruments. To maximise integration flexibility for OEM design teams, the Sprint is available with options for electrical connector, gas connector and mounting arrangements.

"A sensor as advanced as the Paracube® Sprint would have been impossible to manufacture five years ago," says Martin Cox, Business Unit Manager, Hummingbird Sensing Technology.
"That Hummingbird's world-leading design team has been able to take advantage of separate advances in material science, optics and electronics to create this remarkable sensor is a major achievement, and one which will be of immediate benefit to medical manufacturers around the world."

For more information about the Hummingbird Paracube® Sprint, contact Hummingbird's global sensing technology team:
Americas & EMEA: Tommy Mikhail - tel: +1 281 413 7570 / email: americas_oem@servomex.com
Japan: Yuuki Kazama - tel: +81 3 3255 8162 / email: asia_oem@servomex.com
Asia Pacific: Miss Guan - tel: +86 (0) 21 6489 7570 / email: asia_oem@servomex.com

About Hummingbird Sensing Technology
With more than 20 years experience in supplying gas sensors to the medical sector, Hummingbird Sensing Technology is a division of Servomex, the world expert in gas analysis.

Servomex has extensive experience of working with multi-national companies across a range of industries including hydrocarbon processing, industrial gas and OEM markets, ensuring our knowledge and expertise closely matches the requirements of our customers.
Servomex is part of Spectris PLC, a leading supplier of instrumentation and controls to global markets.

For further information
Contact: Chris Lawrenson at Coda Communications
E-mail: chris@codacomms.co.uk / Tel: +44 (0)1202 669694/ Cell: +44 (0)7590 036435

More from Electrical Equipment & Systems