Parallel Port Transceiver has power-on protection feature.
Press Release Summary: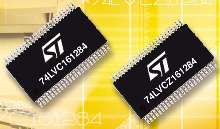 Low-voltage (3-3.6 V), high-speed transceiver IC model 74LVC161284TTR conforms to IEEE1284 parallel port interface standard, while model 74LVCZ161284ATTR also offers error-free power-up function. Each supplies IEEE1284-I and -II bi-directional parallel communications and has translation capability that allows outputs on cable side to interface with 5 V signal. The A port pins have 4 mA totem-pole outputs, while B port pins source or sink up to 14 mA.
---
Original Press Release:

Parallel Port Transceiver from STMicroelectronics Includes Power-on Protection Feature


One IC replaces two

Geneva, November 7, 2003 - STMicroelectronics (NYSE: STM) has developed a pair of low-voltage, high-speed transceiver ICs that conform to the IEEE1284 parallel port interface standard. They are designed for use in printers, scanners and copiers.

The 74LVC161284TTR is a low-voltage, high-speed IEEE1284 transceiver. The 74LVCZ161284ATTR is a similar part but offers an error-free power-up function as well. Each can replace the function of two 74ACT1284 devices.

Both parts support both IEEE1284-I and -II (level one and level two) bi-directional parallel communications between personal computers and peripherals. A translation capability allows outputs on the cable side to interface with a 5V signal. A pull-up resistor is integrated on each open-drain output to eliminate the need for a discrete resistor to perform the same function.

The A port pins of the interface have standard 4mA totem-pole outputs. The B port pins offer the ability to source or sink up to 14mA. All the inputs offer a degree of hysteresis to improve their noise margin.

The parts have TTL-compatible inputs, despite working with operating voltages of between 3V and 3.6V. The parts offer a low delay of just 9ns.

The 74LVCZ161284ATTR includes a feature to ensure that any printers connected to it start properly when power is applied. One set of outputs stay high after the power is applied until an associated input also goes high. This prevents printer system errors caused by the cable's BUSY signal being set false at power on.

The chips are laid out with a 'flow-through' pin configuration so they are easy to design into PCBs. They are available in a TSSOP at a commercial temperature grade, at prices ranging from $0.78 to $0.85 in quantities of 1K.

Further information on these products is available at www.st.com/stdlogic . The entire datasheets can be found on line at the following URLs:

74LVC161284: st.com/stonline/books/pdf/docs/9526.pdf

74LVCZ161284: http://st.com/stonline/books/pdf/docs/9508.pdf

About STMicroelectronics

STMicroelectronics is a global leader in developing and delivering semiconductor solutions across the spectrum of microelectronics applications. An unrivalled combination of silicon and system expertise, manufacturing strength, Intellectual Property (IP) portfolio and strategic partners positions the Company at the forefront of System-on-Chip (SoC) technology and its products play a key role in enabling today's convergence markets. The Company's shares are traded on the New York Stock Exchange, on Euronext Paris and on the Milan Stock Exchange. In 2002, the Company's net revenues were $6.32 billion and net earnings were $429.4 million. Further information on ST can be found at www.st.com.

STMicroelectronics, Inc.
Lexington Corporate Center
10 Maguire Road
Bldg. 1, 3rd Floor
Lexington, MA 02421
(781) 861 2650
www.st.com

More from Communication Systems & Equipment