Panel Mount Monitor features 5-wire resistive touch screen.
Press Release Summary: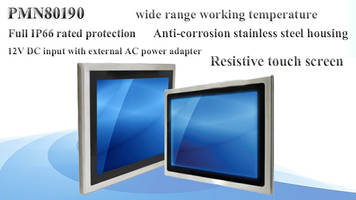 PMN80190 Panel Mount Monitor comes with a 19 in. 1280 x 1024 LCD panel. Operated in a temperature range of -15 °C to 60 °C, unit offers 12V DC input with external AC power adapter. Product features 1000-nits of brightness. Suitable for ambient light conditions, industrial, commercial, indoor and outdoor applications, monitor comes in stainless steel housing. PMN80190 is IP66 rated which provides protection from dust, oil, and non-corrosive material.
---
Original Press Release:
PMN80190: Panel Mount Monitor with Full IP66 Protection
PMN80190 gives a 19 inch 1280 x 1024 industrial LCD panel with full IP66 rated anti-corrosion stainless steel housing. Also, PMN80190 provides 5-wire resistive touch screen with wide range working temperature from -15°C ~ 60°C. Furthermore, PMN80910 offers 12V DC input with external AC power adapter for power supply. There are also many different options for touch screen types, video inputs, 1000-nits high brightness for outdoor use.
PMN80190 Features
Acnodes' LCD monitors have been designed to meet the challenges of demanding industrial and commercial applications. With the option for 1000-nits high brightness LCD panel, PMN80190 can be readable under sunlight. The sunlight readable LCD monitors operate in direct sunlight or harsh ambient light conditions. Moreover, sunlight readable monitors offer users to see sharp and clear video images even with bright sunlight directly on the screen. Therefore, PMN80190 can be operated for both indoor and outdoor.
PMN80190 also offers fully IP66 protection, which provides complete protection from dust, oil, and other non-corrosive material. Furthermore, with the IP66 protection from water even from powerful jets of water. The complete protection avoid the contact with enclosed equipment. Therefore, IP66 gives full protection from natural elements and then gives PMN80190 the power to operate in any outdoor location.
Speaking of anti-corrosion stainless steel housing, it refers to the protection of metal surfaces from risky environment. Risky environment such as corrosion; corrosion causes evident on the surfaces of metallic materials. Furthermore, metal equipment may become rusted both indie and out as well, depending on atmospheric conditions. To prevent corrosion, PMN80190 offers anti-corrosion stainless steel housing. Anti-corrosion measures are of particular importance in environments where high humidity, mist, and salt are factors. With this feature, users do not have to worry that PMN80190 will become rusty or corrosive.
Acnodes Corporation has a vast amount of product line configurations. Moreover, they can customize most industrial and commercial computers to one's specifications. For more information, please e-mail them at info@acnodes.com or visit their website: www.acnodes.com. One can also call them at (909) 597-7588.
About Acnodes
Acnodes Corporation makes, sells, and designs industrial computers and display solutions for diverse industries that range from automation to military. Most of all, they supply efficient and valuable products for their customers. They have a host of technological innovations in Panel PCs, embedded computers, rack mount servers, and rugged monitors. Acnodes Corporation strives to meet their clients' needs with cutting-edge technology and solutions.
Contact:
Erica
Acnodes
14628 Central Ave
Chino, CA 91710
Phone: 909-597-7588
Email: erica@acnodes.com
More from Controls & Controllers