Panel Mount AC SSR accepts 3-32 Vdc or 90-250 Vac inputs.
Press Release Summary: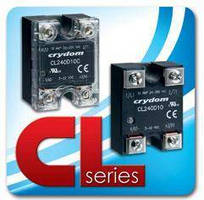 Designed for general purpose/light duty use in heating, lighting, and motion control applications, CL series is rated at either 5 or 10 A output from 24-280 Vac, and includes LED input status indicator. It is offered in industry standard panel mount SSR package and is also available in either IP00 or IP20 touch safe screw terminal configurations. Featuring 4 kV all solid state optical isolation with Triac output, series comes with either zero voltage or random turn-on.
---
Original Press Release:

Crydom Announces the "CL" Series of Panel Mounted General Purpose AC Solid State Relays



Complementing Crydom's extensive offer of Heavy Duty High Power Solid State Relays, the new "CL" series is optimized for lighter duty applications in heating, lighting and motion control.

Crydom's new CL series of AC output Solid State Relays is intended for general purpose use in heating, lighting and motion control applications where panel mounting is desirable but traditional heavy duty SSRs are not required. Rated at either 5 or 10 amps output from 24 to 280 VAC, the CL series features either 3 to 32 VDC or 90 to 250 VAC inputs and includes an LED input status indicator. The CL series is offered in the industry standard panel mount SSR package and is available in either IP00 or IP20 touch safe screw terminal configurations.

Featuring 4kV all solid state optical isolation with Triac output, the CL series is available with either zero voltage turn-on for resistive load applications or random turn-on for inductive load applications. An output RC snubber network is also included for applications with highly inductive loads or noisy power lines. The CL series is RoHS & China RoHS compliant, CE certified, UL and cUL recognized.

For additional information about Crydom's products including the new CL series, contact your local authorized Crydom Distributor, Representative or Crydom Sales office, or visit www.crydom.com.

About Crydom

Crydom, Inc., a Custom Sensors & Technologies company with global operations, is an expert in Solid State Relay and Controls Technology. Crydom manufactures and commercializes two of the most preferred brands of Solid State Relay around the world; Crydom and Crouzet. Crydom offers a wide variety of off-the-shelf Solid State Relays and Contactors, I/O Modules & mounting boards, Controls and Power Modules, and specializes in custom designed solid state switching solutions for any application. At Crydom, technology and innovation combine to exceed our Customer's most demanding performance requirements.

www.crydom.com

About Custom Sensors & Technologies

Headquartered in Moorpark, CA - Custom Sensors & Technologies (CST) is comprised of industry-leading brands including Crouzet, Kavlico, Crydom, and former divisions of BEI Technologies - Newall and Systron Donner. CST provides sensors, controls, and actuation products for the Transportation, Industrial and Aerospace & Defense markets.

www.cstsensors.com

For additional information, please contact:

Gabriela Miranda

+1(619) 210-1556

gabriela.miranda@crydom.com

Crydom Inc.

2320 Paseo de las Americas, Suite 201

San Diego, CA, 92154

USA

Tel: (619) 210 1550

Fax: (619) 210 1590

sales@crydom.com

Crydom SSR Limited

Arena Business Centre,

Holyrood Close,

Poole

Dorset,

BH17 7FJ,

United Kingdom

Tel: +44 1202 606030

Fax: +44 1202 606035

sales-europe@crydom.com

More from Machinery & Machining Tools