Panel Bender offers alternative to press-brakes.
Press Release Summary: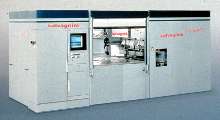 Modular PERformER features numerically controlled bending unit, which uses algorithms to compensate for material thickness and bend profile. It can make multiple up and down bends and can use same tools to process sheets of different lengths and thicknesses. Bending tools allow unpainted and pre-painted sheet to be bent without damaging surface. Manipulator handles blank with rotational control and can automatically position workpiece to any angle.
---
Original Press Release:

Salvagnini Performer Compact Panel Bender Proves a Competitive Alternative to Conventional Press-Brakes


HAMILTON, OH (November 26, 2002) -The PERformER Compact Panel Bender is the little sister of Salvagnini's renowned Panel Bender P4, but it is little only as far as its degree of automation is concerned-its technology is virtually identical.

With an attractive entry-level price, the PERformER is an ideal substitute for many press-brakes and a versatile solution for quality and productivity in semi-automatic panel bending, guaranteeing flexibility, accuracy, repeatability, easy programming and use, and operator safety.

The PERformER's numerically controlled bending unit uses algorithms to compensate for the material thickness and bend profile. Rigid bending tools keep the bent edge straight and consistent, regardless of the length and thickness of the panel.

The PERformER features a patented bending unit that can make multiple up and down bends and can use the same tools to process sheets of different lengths and thicknesses.

In addition, specially shaped bending tools allow all types of sheet metal, both unpainted and pre-painted, to be bent without damaging the surface. Different thicknesses and materials can be bent using the same tool.

The exclusive Salvagnini manipulator handles the blank with rotational control (RC) and can automatically and accurately position the workpiece to any angle.

The PERformER also offers:
o A compact, modular design that occupies less space and costs less to install.
o Easy access to the worktable via the practical door in the middle of the machine for fast and easy blank setup.
o A CNC control that makes it simple for operators to use because of simple programming and intuitive graphics interface.
o Software functions that include the ability to program the bend angle and radius, record new programs during production and save the machine diary.

For more than 30 years, Salvagnini has served the global metalworking industry by designing, manufacturing, marketing and servicing flexible sheet metal processing systems, machines, process software and tooling for factory integration. Major product lines include punching and shearing, automatic panel bending and laser cutting systems. And as the originator of automation in the sheet metal fabricating sector, Salvagnini
offers complete material handling capabilities, including ASRS, robotic loading/unloading, conveying and parts manipulation. More than 2,000 Salvagnini systems are in operation in more than 50 countries around the world.

To find out more about how the PERformER Compact Panel Bender can solve the toughest quality and production challenges, contact Salvagnini America, Inc., 27 Bicentennial Ct., Hamilton, OH 45015. Phone: (513) 874-8284. Fax: (513) 874-2229. Website: www.salvagnini.com

More from Materials