Panasonic Offers Free Web-based Systems Configurator Design Tool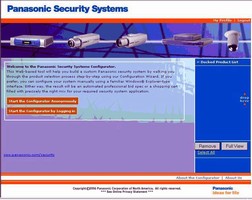 Users Can Easily Design And Specify System Components On-line

San Diego, CA (September 25, 2006) - Now a new tool is available to help end users and dealers design their own custom-configured Panasonic video surveillance system. Created by Panasonic Security Systems, a division of Panasonic System Solutions Company, the Configurator takes users through an easy step-by-step process to guide them in selecting the optimal product configuration to build a unique solution that fits their needs.

"This web-based tool will help you build a custom Panasonic video surveillance system by walking you through the product selection process using our unique, user-friendly wizard," said Julianna Benedick, Group Marketing Manager, Panasonic System Solutions Company (PSSA). "It is a fast, efficient and convenient way to facilitate the design of a video surveillance solution." Subsequent versions will include third-party products and additional options to ensure making this a user-friendly tool.

With the new Configurator, users can also choose to configure a system manually using a familiar Windows Explorer-type interface. Either way, the result will be an automated professional a shopping cart or bid spec complete with precisely the right mix of product for the required security system application.

To access Panasonic Security Systems' new Configurator, please visit pssconfig.com

More information about the entire range of Panasonic solutions will also be available as a free download in video format from Panasonic's website after the ASIS show. "We want to offer users and our partners a choice of reference materials in different media to showcase the breadth of our offering," said Julianna Benedick, Group Marketing Manager, Panasonic System Solutions Company.

For more information call toll free 1-866-PAN-CCTV (1-866-726-2288) or visit www.panasonic.com/security .

About Panasonic
Panasonic System Solutions Company, Unit of Panasonic Corporation of North America, is a world leader in analog and IP video surveillance solutions through its Panasonic Security Systems division. Core, cutting-edge technology developments include Super Dynamic III with intelligent camera features, and expanding networking capabilities of the i-Pro Series of intelligent and professional IP products. Based in Secaucus, NJ, Panasonic Corporation of North America is the principal North American subsidiary of Matsushita Electric Industrial Co., Ltd. (NYSE:MC) of Japan. Information about Panasonic Security Systems is available at www.panasonic.com/security.
Additional company information for journalists is available at http://www.panasonic.com/pressroom.

More from Materials