Panasonic Combines Latest Intel Technology with Product Line Longevity in Toughbook and Toughpad Range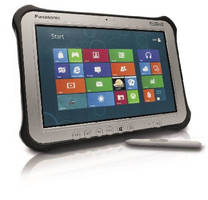 BRACKNELL, UK - Panasonic today announced that the latest versions of its Toughpad FZ-G1 and Toughbook CF-31 will be powered by the 5th Generation Intel® Core™ Processor delivering increased performance and longer battery life. The tablet and notebook are among the very first rugged devices to be equipped with the powerful new Intel® architecture. This upgrade underlines Panasonic's commitment to provide market leading technology in a stable product line allowing customers to gain the maximum return on investment from their mobile devices, peripherals and docking stations.



Productivity and battery boosts for the Toughpad FZ-G1

With the Toughpad FZ-G1 being away from your desk doesn't mean being away from your business-critical data and applications. The Intel® Core™ i5-5300U vPro™ Processor (3MB cache, 2.3GHz up to 2.9 GHz with Intel® Turbo Boost Technology) and Intel® HD 5500 graphics with DirectX 11 support is capable of running the most demanding office applications in the field.



CF-19

The Intel platform upgrade to the Toughpad FZ-G1 tablet has boosted standard battery operating time from 10 hours to 13 hours and operating time with Large battery pack from 20 hours to 26 hours.



The thin, lightweight and yet fully-rugged 10.1" Windows 8.1 Pro Update tablet is the first in the Panasonic Toughpad range to benefit from the latest generation Intel® technology.



With the Large battery pack option and optional hot swap battery capabilities, the Toughpad FZ-G1 can offer seamless, uninterrupted 24-hour operation to continuously service mobile workers on shifts. Panasonic has also adapted the design of the rugged tablet to ensure the hot swap battery option can be specified on the device alongside its smartcard capabilities.



Users of the Toughpad FZ-G1 include retail, manufacturing and businesses with large engineering or maintenance workforces in the field, industries such as utilities, transportation and distribution as well as the emergency services and insurance assessors.



The Toughpad family is designed to meet the same durability standards as Panasonic's Toughbook laptop product line. The fully-rugged Toughpad FZ-G1 is certified according to MIL-STD-810G as well as an IP65 ingress protection rating for resistance to dust and water.



Flagship Toughbook CF-31 fully-rugged notebook

The 5th Generation Intel® Core™ i5-5300U vPro™ Processor (3MB cache, 2.3GHz up to 2.9 GHz with Intel® Turbo Boost Technology) delivers increased computing power and an extended 18 hour battery life (up from 14.5hrs) in the flagship fully-rugged CF-31 notebook. Recognised for its reliability in extreme environments, the Toughbook CF-31 is used extensively by the defence industry, as well the automotive, telecoms and utilities industries. With features such as its stealth concealed mode, 1,200cd/m² touchscreen display, faster computing and longer working battery, the CF-31 is at home on the battlefield and in emergencies as well as the device of choice for outside mobile workers specialising in repairs and maintenance.



The latest version of the Toughbook CF-31 has been further optimised for connectivity whatever the location and includes the latest WLAN 802.11ac technology for the fastest data transfer. The latest high accuracy U-Blox 8 GPS functionality has also been added making it ideal for users that require pin-point location capabilities, with accuracy to between 2-4m when on foot or in vehicles.



Now equipped with Windows 8.1 Pro Update operating system, users can take advantage of the latest improvements in user functionality and the enterprise benefits of the most sophisticated and user-friendly operating system. Windows 7 Professional (available through downgrade rights from Windows 8.1 Pro) options are also available.



Finally, the rugged notebook's optional 2nd LAN connection has been upgraded from 100Mbit to a Gigabit to ensure users have the fastest data connections when connecting to multiple networks. This upgrade is ideal for telecoms field operators and repair and maintenance teams when they need to use two LANs to connect simultaneously to a customer's network and their own back office systems.



Intel Embedded processor ensures longterm availability

The popular Toughbook CF-19 rugged notebook has been equipped with an Intel Embedded processor ensuring the longterm availability of the market-leading, rotating screen convertible notebook.



The latest version of the Toughbook CF-19 will be equipped with an Intel® embedded Core™ i5-3610ME vPro™ Processor(3MB cache, 2.7GHz up to 3.3 GHz with Intel® Turbo Boost Technology). The switch to an Intel® embedded CPU ensures the device remains available for the foreseeable future.



Alongside the CPU change Panasonic has also upgraded the latest Toughbook CF-19 with the Windows 8.1 Pro Update 64 bit operating system. A Windows 7 Professional (available through downgrade rights from Windows 8.1 Pro) option is also available. The CF-19 also benefits from a U-Blox 8 GPS functionality upgrade.



Over the past decade, the Toughbook CF-19 has set the standard for rugged notebooks and been the biggest selling device for the Panasonic Toughbook across Europe. It has proven to be the rugged notebook of choice for mobile workers from many different industry sectors.



The latest versions of the Toughbook CF-31, starting price of £2,736 + VAT, CF-19, starting price of £2,256 + VAT and Toughpad FZ-G1, starting price £1,604 + VAT go on sale from February 2015.



About Panasonic System Communications Company Europe (PSCEU)

PSCEU is the European branch of Panasonic Systems Communications Company, the global B2B division of Panasonic. PSCEU's goal is to improve the working lives of business professionals and help their organisations' efficiency and performance. We help organisations capture, compute and communicate all sorts of information: image, voice, and textual data. Products include PBX telephone switches, document printers, professional cameras, projectors, large visual displays, rugged mobile PCs and fire alarms solutions. With around 400 staff, engineering design expertise, global project management capability and a large European partner network, PSCEU offers unrivalled capability in its markets.



PSCEU is made up of four product categories:



Communication Solutions, including professional scanners, multifunctional printers, telephony systems and SIP terminal devices.

Visual System Solutions, including projectors and professional displays. Panasonic offers the widest range of Visual products, and leads the European projector market with 28 % revenue share. (Futuresource B2B market tracking, Q1/2014)

Professional Camera Solutions, including Broadcast & ProAV products, security, fire alarm systems and industrial medical vision (IMV) technology. Panasonic is one of the top two professional camera vendors in Europe.

Computer Product Solutions helps mobile workers improve productivity with its range of Toughbook rugged notebooks, Toughpad business tablets and electronic point of sales (EPOS) systems. As European market leaders, Panasonic Toughbook had a 66.4% revenue share of sales of rugged and durable notebooks and Panasonic Toughpad held a 50.4% revenue share of sales of rugged business tablets in 2013 (VDC Research, March 2014).

More from Software