Palletizing System handles mixed cases.
Press Release Summary: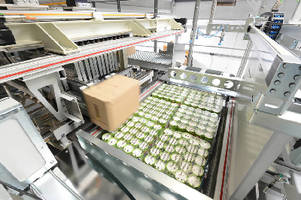 Suited for grocery retailers, beverage distributors, and producers of consumable products, AMCAP™ supports effective pallet unloading process at pallet destination, optimizing shelf restocking as cases are arranged on pallet in specific sequence. Full pallets of one SKU are de-layered by robot. Cases are singulated, placed into automated buffer staging module, and software releases cases in precise sequence for pallet assembly. Robotic palletizer receives cases and automatically builds pallet.
---
Original Press Release:

Dematic Introduces Automated Mixed Case Palletizing Solution



Provides easy shelf restocking at retail stores



GRAND RAPIDS, MICHIGAN – Dematic, a supplier of intra-logistics systems for factories, warehouses and distribution centers, has introduced a new order fulfillment solution, called AMCAP™, that automates the palletizing of mixed cases. AMCAP™, which stands for Automated Mixed Case Palletizing, is a high-performance case palletizing system designed to accommodate the growing need to assemble pallets more efficiently. The solution is ideal for grocery retailers, beverage distributors and producers of consumable products.



The AMCAP™ solution supports an effective pallet unloading process at the pallet destination, typically a retail store. When a pallet built by the AMCAP™ solution arrives at a destination, shelf restocking is optimized as the cases are arranged on the pallet in a specific sequence. AMCAP™ pallets are typically assembled with the cases arranged by family group to correlate to the appropriate aisle in the store. Stock clerks can replenish shelves more quickly and efficiently, which increases customer satisfaction with product availability.



The outbound pallet is stable; automation allows cases to be stacked more densely and higher on the pallet. Freight costs are reduced by maximizing the use of truck trailer transport space.



The AMCAP™ system combines scalability with a compact footprint, allowing the modular automation to fit into existing facilities. Full pallets of one SKU are de-layered by a robot. The cases are singulated and placed into an automated buffer staging module. Performance optimizing software releases the cases from the buffer in a precise sequence for pallet assembly. A robotic palletizer receives the cases and automatically builds the pallet.



According to John Baysore, Chief Executive Officer Dematic North America, "AMCAP™ presents an exciting opportunity for many of the focused markets that Dematic serves such as grocery, general merchandise, food, beverage and manufacturing . Simply stated, AMCAP™ will empower any business that can benefit from optimizing the logistics of product delivery. AMCAP™ creates a faster, safer, more efficient order fulfillment process that handles more SKUs in less space with amazing flexibility."



For more information and a complete list of vertical markets, visit www.dematic.com/AMCAP™  or contact Cheryl Falk at Cheryl.Falk@dematic.com or 262-860-6715.



About Dematic

Dematic is a global engineering company that provides a comprehensive range of intelligent warehouse logistics and materials handling solutions. With a global knowledge network of more than 4,000 skilled logistics professionals, Dematic is able to provide customers with a unique perspective in world-class materials handling solution design. Our commitment to solution development — combined with engineering centers and manufacturing plants in North America, Europe and Asia Pacific — ensures Dematic has the range and capability to provide reliable, flexible, cost-effective solutions globally. Our successful track record has led to the development and implementation of more than 4,000 integrated systems for a customer base that includes small, medium and large companies doing business in a variety of market sectors. Dematic generates a global business volume of approximately $1.5 billion.

More from Electrical Equipment & Systems