Cleaning Compounds and Chemicals
Pallet Washer cleans up to five pallets/min.
Press Release Summary: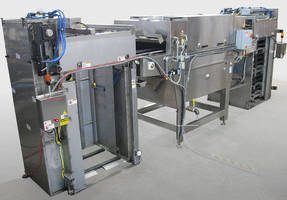 Allowing stacks up to 14 pallets high, stainless steel wash-down constructed Thiele pallet washer automatically removes contamination from all areas of reusable plastic pallet, reducing odor and potential of disease due to bacteria build-up. It unstacks individual pallet, washes it, and then restacks it. Optional features offered are PLC and touch screen for display of diagnostic information and safety interlocked hinged guard doors.
---
Original Press Release:

Thiele Technologies Introduces New Pallet Washer



MINNEAPOLIS, Minn.- March 23, 2009 - Thiele Technologies, Inc., a leading supplier of placing, bagging, cartoning, case packing and palletizing equipment, is pleased to introduce its new pallet washer.

The Thiele pallet washer unstacks individual pallets from a stack of pallets, washes them and restacks the cleaned pallets. Allowing stacks up to 14 pallets high, the pallet washer cleans up to five pallets per minute, automatically removing contamination from all areas of a reusable plastic pallet, reducing odor and the potential of disease due to bacteria build-up.

The Thiele pallet washer has an optional PLC and touch screen that shows diagnostic information, allowing quick and simple operator interface. With a compact footprint, this machine will fit neatly into existing plant layouts. Other features include stainless steel wash-down construction, optional Ethernet and safety interlocked hinged guard doors.

About Thiele Technologies

Thiele Technologies, Inc. provides advanced high-speed packaging automation solutions to a variety of industries around the globe, including petro chemicals, fresh and frozen food, pet food, beverage, dairy, bakery, pharmaceutical, medical devices, cosmetics, horticultural, paper goods, consumer mailing and collating, and paint filling. With more than 70 years of service, Thiele leads the industry in the design, manufacture and integration of placing, bagging, cartoning, case packing and palletizing systems.

ABOUT BARRY-WEHMILLER

Barry-Wehmiller Companies, Inc. is a diversified global supplier of engineering consulting and manufacturing technology solutions in packaging, corrugating, and paper converting across a broad spectrum of industries. Barry- Wehmiller's balanced approach to the market is made possible through nine interactive divisions: Accraply, a leading manufacturer of automatic labeling and label converting and finishing systems; Barry-Wehmiller International Resources (BWIR), a global provider of business and technology solutions to the mid-market manufacturing domain; Design Group, a premier supplier of manufacturing automation, facility design, and other engineering consulting services; FleetwoodGoldcoWyard, a leading producer and supplier of advanced conveyance technology and product handling equipment; HayssenSandiacre, a form/fill/seal technologies and services leader for more than 100 years; MarquipWardUnited, a leading manufacturer of equipment for the corrugated and folded carton industries; Paper Converting Machine Company (PCMC), providing advanced converting, printing, and packaging technologies for the tissue, nonwovens, and flexible packaging industries since 1919; PneumaticScaleAngelus, a global provider for filling, capping, can seaming, labeling, and centrifugation; and Thiele Technologies, a leading producer of placing, bagging, cartoning, case packing, and palletizing equipment.

In fiscal year 2008, a strategic combination of organic and acquisition growth has allowed Barry- Wehmiller to reach a new milestone, with annual revenues now surpassing $1.1 billion for the first time in the company's 123-year history.

For additional information, please contact:
Dean Grell
Vice President and General Manager
Dairy Business Unit
(612) 782-1271

315 27th Avenue Northeast
Minneapolis, MN 55418-2715 USA
Tel: (612) 782-1200
Fax: (612) 782-1209
sales@thieletech.com
www.thieletech.com

More from Materials