Pallet Truck suits light and medium-heavy operations.
Press Release Summary: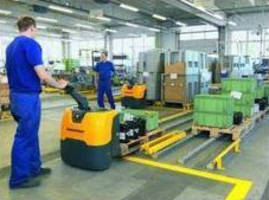 Powered by 2 maintenance-free, 12 V gel batteries, Model EME 114 achieves outputs up to 1,000 W for drive engine or 800 W for lifting engine. Pedestrian-controlled truck travels at speed of 5 kph with climbing gradients of 8% without load and 5% with load. Built-in charger can be plugged into any 230 V socket. In addition to externally visible charge status display, energy management system includes operating hour meter and feature that automatically blocks unintentional start-up.
---
Original Press Release:

New Jungheinrich Pallet Truck: Compact and Maneuverable



This autumn Jungheinrich launched a new pallet truck: the pedestrian controlled EME 114 pallet truck. This truck was developed especially for light and medium-heavy operations and represents the entry model for the electric class of pallet trucks at Jungheinrich.

"This truck can be classified as belonging right at the interface of hand pallet trucks and engine-driven pedestrian-controlled pallet trucks," explains Sebastian Hüther, Product Manager Hand Pallet Trucks at Jungheinrich. "This makes these trucks ideal for entering the electric category of pallet trucks. They also exhibit an excellent price-performance ratio." The trucks are particularly well suited to operations in retailing sales areas as well as in supermarkets and DIY stores, and can even be deployed for the occasional order picking or transport job.

Especially developed for light and medium-heavy operations, the EME 114 is powered by two maintenance-free, 12 volt gel batteries (63 Ah). The truck can achieve outputs of up to 1,000 watts (for the drive engine) or 800 watts (for the lifting engine). "This means it offers significant support to the operator when transporting pallets and loads of up to well over a tonne," continues Hüther. The pallet truck is a classic pedestrian truck, travelling at a speed of around five kilometres per hour and climbing gradients of up to eight percent (without load) or five percent (with load).

Built-in charger and integrated operating hour meter

In developing the new truck, the engineers at Jungheinrich also developed a tailored energy management system. The EME 114 comes standard with a built-in charger which can be plugged into any 230 volt socket. Depending on the ultimate destination, this charger can also be optionally equipped with a 115 volt connection and locally compatible plugs .

Apart from an externally visible charge status display and a feature that automatically blocks unintentional start-up, the EME 114's Jungheinrich energy management system also includes an integrated operating hour meter. This hour meter ensures that the actual operating time of the Jungheinrich trucks can always be precisely determined without any extra effort. "This is the bedrock of correct maintenance scheduling," comments Hüther.

Ergonomic, safe, fast and efficient

The Jungheinrich engineers who developed the EME 114 also gave a great deal of thought to the issue of safety and ergonomics. Thanks to its extremely short front section, measuring only 450 millimetres, the truck can be easily manoeuvred, even in tight spaces. The pallet truck is also especially stable due to two support wheels located on both sides of the drive wheel. The ergonomically shaped tiller, which can be operated with both hands, makes it extremely easy to operate this compact and highly manoeuvrable truck. The new Jungheinrich pedestrian pallet truck also offers a number of convenient storage trays. As Sebastian Hüther comments: "Working with an EME 114 is not only ergonomic and safe, but also fast - which makes it efficient as well!"

Jungheinrich is among the leading international companies in the industrial truck, warehousing and materials handling sector. As a producing logistics service provider it offers its customers a comprehensive product range consisting of stackers, rack systems, services and consulting for complete intralogistics. The Jungheinrich share is traded on all German stock exchanges.

Please address press-related inquiries to:

Jungheinrich AG, Jan Kaulfuhs-Berger, Corporate Communications

Phone: +49 40 6948-1503, Fax: +49 40 6948-1599

jan.kaulfuhs-berger@jungheinrich.de, www.jungheinrich.com

More from Machinery & Machining Tools