Pallet Truck increases efficiency to reduce downtime.
Press Release Summary: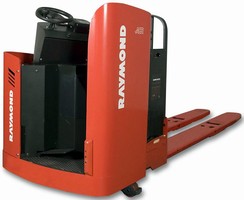 Along with AC motors, Model 8900 incorporates ACR System(TM) to promote acceleration, smooth operation, and energy efficiency in dock operations, trailer loading/unloading, and transporting pallets horizontally. Truck is available in 6,000 and 8,000 lb capacities, and fork carriage design has long-wearing components. Optional operator compartment sensor system decelerates moving truck if beams are blocked and will not permit travel until object blocking sensors is removed.
---
Original Press Release:

Raymond Model 8900 Pallet Truck Increases Efficiency, Reduces Downtime



GREENE, N.Y. - The Raymond Corporation's new Model 8900 pallet truck is ideal for dock operations, loading and unloading trailers, and transporting pallets horizontally. The Model 8900 pallet truck features Raymond's exclusive ACR System(TM) to facilitate productivity and comfort.

The Model 8900 uses Raymond's ACR System for quicker acceleration, smooth operation and greater energy efficiency. AC motors deliver more run time per battery charge and experience less reduction in truck performance as the battery discharges, even with a fully loaded pallet. AC technology also minimizes downtime and reduces cost of ownership because it has fewer wearable parts and requires less maintenance than DC systems.

"The Model 8900 pallet truck is designed to enhance operator performance and reduce maintenance," says Sue Rice, product manager, Class III products, for The Raymond Corporation. "It optimizes productivity while providing a lower cost of operation to our customers."

The pallet truck is available in 6,000-lb. and 8,000-lb. capacities. The truck's fork carriage design features new, exclusive long-wearing components for reduced downtime and maintenance costs.

The Model 8900 also is available with an optional operator compartment sensor system. This system uses multiple light beam sensors embedded in rear operator compartment housings. The sensors span the entry to the compartment. When the sensors are blocked or the beams are not seen or emitted, a tone sounds, a message scrolls on the operator display, and the truck will decelerate to a stop if traveling. If the truck is stationary, it will not allow travel until the object blocking the sensors is removed or the beam is seen or emitted.

For more information about the Raymond® Model 8900 or to locate a Raymond dealer, visit www.raymondcorp.com or call (800) 235-7200.

The Raymond Corporation is the leading global provider of material handling solutions that improve space utilization and productivity, with lower cost of operation and greater operator acceptance. Raymond offers the iWarehouse(TM) system, an enterprise fleet management solution for warehouse and distribution center managers to collect and analyze real-time lift truck data to maximize fleet productivity and reduce costs. High-performance, reliable, ergonomically designed Raymond lift trucks range from a full line of manual and electric pallet trucks and walkie stackers to counterbalanced trucks, Reach-Fork® trucks, orderpickers and dual-purpose (pallet handling/case picking) Swing-Reach® trucks.

For additional information about The Raymond Corporation or to locate a Raymond dealer, visit the company Web site at www.raymondcorp.com or call (800) 235-7200. Above. And beyond.®, iWarehouse(TM), Raymond®, Reach-Fork®, and Swing-Reach® are U.S. trademarks of The Raymond Corporation.

©2008 The Raymond Corporation. All rights reserved.

The Raymond Corporation
Attn: Charlotte K. O'Dea
Project Manager, Marketing Communications
South Canal Street
P.O. Box 130
Greene, NY 13778-0130
Fax: 607-656-9005
marcom@raymondcorp.com

To download the photo, visit http://home.bader-rutter.com/raymond/pr50/largephoto.html.

FOR MORE INFORMATION, CONTACT:

Charlotte K. O'Dea
Marketing Communications
The Raymond Corporation
(607) 656-2468

Andrea Bolyard
Bader Rutter & Associates, Inc.
Public Relations
(262) 938-5453

More from Architectural & Civil Engineering Products