Pallet Truck features electronic power steering.
Press Release Summary: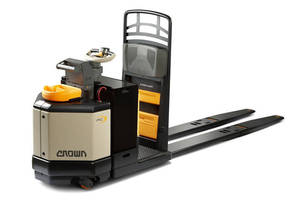 Crown PC 4500 Series includes Access 1 2 3® technology that automatically reduces truck's speed as steer angle increases during turn, optimizing operator safety as well as truck stability. Also incorporated are ergonomic X10® handle, button that enables thumb control for forward and backward movement, and operator-sensing floorboard. Crown Insite(TM) system utilizes on-truck electronic systems, wireless fleet management tools, and fleet cost-tracking software to gather data.
---
Original Press Release:

Maneuvering a Pallet Truck Just Got Easier



Crown PC 4500 Series with Electronic Power Steering Increases Operator Productivity

NEW BREMEN, Ohio, Jan. 29, 2009 - Have you ever driven a car that doesn't have power steering? Making a turn is physically demanding and parallel parking leaves you feeling like you've just finished a workout. That's how operators of center control pallet trucks with manual steering feel at the end of a shift. But now, with its new PC 4500 Series, Crown Equipment Corporation brings the benefits of power steering from the road to the warehouse.

The PC 4500 simplifies operators' tasks in a number of applications, allowing them to travel quickly and easily through a facility during transport, steer effortlessly from beside the truck during order picking, and even maneuver in tight spaces like loading docks. By eliminating the awkward body movements associated with the operation of manual-steer center control pallet trucks, the PC 4500 significantly reduces operator fatigue.

"You don't have to use your whole body to turn," said Jason Post, who operates a PC 4500 at a Gordon Food Service distribution center in Grand Rapids, Mich. "It's just a natural thing; you really don't even think about it."

Crown Product Manager Rod Squires says the truck's intuitive nature is the result of the innovative hardware and software solutions that Crown's engineers applied to the power steering system. For example, Access 1 2 3® technology, as implemented on the PC 4500, automatically reduces the truck's speed as the steer angle increases during a turn. This contributes to operator safety, increases stability and gives operators precise control.

"This truck is loaded with features that improve operator efficiency," said Squires. As another example, he cites the PC 4500's X10® handle, which has won national awards for its advanced ergonomic design. It has also garnered widespread approval from operators.

"I really enjoy that handle because it makes it easier to turn and you just use your thumb to go forward and backward. You push a button and go," said Post, who also likes the truck's spacious operator compartment and operator-sensing floorboard.

Optional fold-down, second-level pick steps on both sides of the truck help operators retrieve items stored just outside their reach. By extending the comfortable picking zone by as much as two feet, these pick steps can double the number of pick locations an operator can easily access.

Also available on the PC 4500 is Crown Insite(TM), which uses on-truck electronic systems, wireless fleet management tools and fleet cost-tracking software to gather data that gives facility managers the insights they need to increase productivity and reduce costs. These productivity-enhancing features, together with industry-leading warranties and an exclusive five-year power unit/fork weldment guarantee, make the PC 4500 a smart move for both operators and the bottom line.

About Crown Equipment Corporation

Crown is the number one brand of electric lift trucks in the United States and the sixth largest lift truck manufacturer in the world. Crown's award-winning line of lift trucks has earned a reputation for exceptional product design, engineering and manufacturing. From the smallest hand pallet truck to the highest lifting turret truck, Crown seeks to provide users with safe, efficient and ergonomic lift trucks that lower total cost of ownership and maximize uptime. Headquartered in New Bremen, Ohio, Crown manufactures lift trucks that are sold throughout the world.

More from Software