Pallet Guard helps eliminate damage from lift trucks.
Press Release Summary: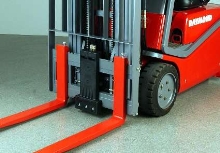 Suited for all lift trucks with class 2 fork carriage, Pallet Dawg(TM) directs truck's impact force to center stringer of pallet instead of top boards, preventing damage to first crossboard and minimizing wood debris. Manufactured of lightweight, high-density and impact-resistant material, Pallet Dawg attaches to carriage in minutes with 9/16 in. socket and wrench.
---
Original Press Release:
Raymond's New Pallet Guard Virtually Eliminates Pallet Damage from Lift Trucks
GREENE, N.Y. - The Raymond Corporation introduces the Pallet Dawg(TM) pallet guard for all lift trucks with class 2 fork carriage. The Pallet Dawg is available exclusively through Raymond dealers. For organizations that move pallets with a lift truck, the Pallet Dawg virtually eliminates damaged pallets, related costly repairs and wood splinters cluttering warehouses and loading docks. The Pallet Dawg directs a lift truck's impact force to the center stringer of the pallet, instead of the top boards. This prevents damage to the first crossboard and minimizes wood debris, which can lead to wheel and tire damage and sudden load instability. Manufactured of lightweight, high-density and impact-resistant material, the Pallet Dawg easily attaches to any class 2 carriage in minutes with a 9/16-inch socket and wrench. "There are 1.9 billion pallets in use today in the United States, most of which are constructed of wood. Once damaged, Grade A pallets lose 70% of their value," says Raymond Sales/Marketing Manager Bill McCampbell. "Considering one wooden pallet costs as much as $8, the cost savings over time will be substantial for all Pallet Dawg users, both shipping and receiving product. For example, if customers receive a damaged pallet and have to re-palletize it, then the shipper of the product becomes responsible for the cost." In addition to reduced pallet damage and related costs, the Pallet Dawg improves distribution-chain efficiency by preventing delays due to damaged pallets being caught in racking systems or automated assembly/packaging lines. For more information about the Pallet Dawg, or to locate a Raymond dealer, visit www.Raymondcorp.com or call (800) 235-7200. The Raymond Corporation is the leading North American provider of materials handling solutions that improve space utilization and productivity, with lower cost of operation and greater operator acceptance. High-performance, reliable, ergonomically designed Raymond products range from a full line of manual and electric pallet trucks and walkie stackers to counterbalanced trucks, Reach-Fork; trucks, orderpickers and dual-purpose (pallet handling/case picking) Swing-Reach; trucks. Raymond, Above. And Beyond., Reach-Fork, Pallet Dawg, Reach-Fork and Swing-Reach are trademarks of The Raymond Corporation. © 2005 The Raymond Corporation. All rights reserved.
Related