Paintable Film is used for automotive masking.
Press Release Summary: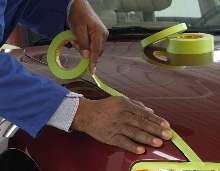 Overspray Protective Sheeting covers vehicle in preparation for painting. It can be cut away and taped to expose area to be painted without need for masking paper around critical edge. Paintable, tear-resistant, protective sheeting is available in 3 widths. High-density ½-mil polyethylene film can be dispensed horizontally or vertically using protective sheeting masker.
---
Original Press Release:
3M Introduces Paintable Film for Automotive Masking
St. Paul, MN-June 15, 2004 -- 3M Automotive Aftermarket Division announces availability of a new paintable protective sheeting for automotive paint shops. Durable, tear-resistant Overspray Protective Sheeting - Now Paintable, from 3M, is used to cover a vehicle in preparation for painting, and can be cut away and taped to expose the area to be painted without need for conventional masking paper around the critical edge. Jerry J. Steinke, 3M Automotive Aftermarket Division marketing manager, explains that new Overspray Protective Sheeting from 3M can be applied by a single user, unfolding easily and yet clinging to the vehicle. All three film widths can be dispensed either horizontally or vertically using the protective sheeting masker from 3M. "Body shop tests show that this new protective sheeting eliminates the cost of masking paper and cuts paint preparation time by up to half," Steinke said. "For example, based on average labor rates and material costs, a shop that paints 15 cars per week could potentially save up to $2,700 anually in labor and materials with Overspray Protective Sheeting - Now Paintable, from 3M." This new 1/2-mil high density polyethylene 3M film is clear, tear resistant, and treated for improved paint overspray adhesion. It unfolds easily and clings to the vehicle surface. Three widths are available to suit the full range of vehicle sizes from compacts to pickups, SUVs and vans. 3M Overspray Protective Sheeting - Now Paintable is available through 3M aftermarket distributors. See www.3M.com/automotive, and select Where to Buy. About 3M Automotive Aftermarket Division The 3M Automotive Aftermarket Division (NYSE: MMM) meets the needs of vehicle service and repair professionals for a wide variety of repair and maintenance needs. In body shops, 3M is best known for its industry-leading abrasives, tapes, paint finishing products, adhesives, sealants and plastic repair materials along with its worker safety and protection products. 3M is the company's latest major innovation for automotive paint masking. For more information, please contact: 3M Automotive Aftermarket Division 3M Center, Bldg 223-6N-01 St. Paul, MN 55144-1000 1-877-MMM-CARS (1-877-666-2277) http://www.3M.com/automotive
More from Sensors, Monitors & Transducers