Paint Spray Booth features controlled airflow.
Press Release Summary: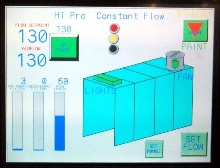 Hi-Pro(TM) utilizes closed-loop technology for automatic adjustment of exhaust fan speed so it consumes only power needed to maintain required airflow. Touchscreen control panel allows user to tune application equipment to coat more parts per gallon. Visible warning stacklight and on-screen information help predict and prevent line stoppages. Booth lets user know precisely when filter change is required so filters are changed only when needed.
---
Original Press Release:

New Paint Booth Uses Less Paint, Improves Finish Quality


(Sylvania, Ohio, USA, May 24, 2005) - A revolutionary, patent-pending technology has been introduced by a new manufacturing organization - Buckeye Air Control Technologies, Ltd. (BACT). After 30+ years in the industrial finishing market, Jim Motter, the inventor, has joined with BACT to accelerate the introduction of this innovative technology (and other products) to the market.

The patent-pending Hi-Pro(TM) Paint Spray Booth finally brings the much-needed ability to accurately and consistently monitor and control airflow to the industrial finishing environment. Although efforts to control airflow in paint booths have been made through the years by several booth manufacturers, none have been successful. Until now!

The benefits of accurately controlling airflow are significant and quantifiable:

1. Get more parts per gallon - Your finishing lines need to be adjusted to optimize the booth under varying operating requirements, and reduce your reliance on operator interpretation of what should be done. Hi-Pro's controlled airflow combined with its unique touchscreen control panel enables you to tune your application equipment to coat more parts per gallon, gaining a 10 - 35% (or more) increase in paint mileage.

2. Much Higher Productivity - Are you tired of mid-shift production line stoppages for booth maintenance and filter change-outs? Hi-Pro technology allows you to go 6 to 10 times longer before stopping to change filters. Plus, we use a highly visible warning stacklight and on-screen information so potential booth caused line stoppage can be predicted and prevented! No more guessing on your part, resulting in increased booth productivity of 10 - 40% or more

3. Reduce your filter costs and change-out labor - You need to know precisely when filters need to be changed, so you can use fewer filters and change them only when needed. Our new technology tells you that, plus, the Hi-Pro booth uses filters designed to hold much more overspray than the typical booth. Filter changes are fewer and farther between, resulting in much lower maintenance cost.

4. Use less energy - Your energy costs continue to escalate. Hi-Pro Booths utilize "closed loop" technology that permits automatic adjustment of the exhaust fan speed so it consumes only the power needed to maintain the required airflow. This results in energy savings of 10 - 40%.

Other benefits, not as easily quantifiable, but just as important include:

5. Higher finished part quality - Airflow in the booth is typically the single most important variable remaining to be controlled in the finishing process. Hi-Pro gives you the airflow control required to significantly impact spray quality, which directly improves finished product quality. It facilitates improving finishing quality utilizing statistical process control techniques.

6. A much better working environment - Most paint booths resemble dark, dreary, noisy caves rather than the professional, high productivity workspaces that they should be. The Hi-Pro booth is powder coated a bright white, and is well lit with fixtures on booth the ceilings and the walls. Overspray blowback is virtually eliminated because of the constant airflow. And the remote mounted variable speed fan is significantly quieter than existing booths.

Jim Motter, a BACT principal, has prepared a white paper that discusses in depth the problems associated with airflow in dry filter paint booths and how the new Hi-Pro Paint Booth system tackles each of those problems. Download his white paper free of charge at buckeyeact.com/wp1_pr1.html or by calling Jim at 419.882.2288.

For a copy of this press release in Microsoft Word format: BuckeyeACT.com/PR052305.doc

For other information, contact Rod Brant RBrant@BuckeyeACT.com

About BACT: Buckeye Air Control Technologies, Ltd. unique products and services enable manufacturing companies to produce higher quality products from their finishing operations.

We are committed to provide our customers with the Best Air Control Technologies so they can get control of their finishing processes and produce higher quality products at lower cost, in a productive work environment.

More from Services