Paint Markers have xylene-free formula.
Press Release Summary: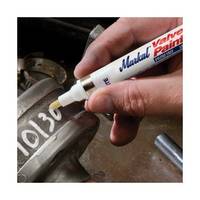 Valve Action® Paint Marker uses low-chloride, xylene-free paints, which include high-visibility, fluorescent color options - yellow, green, orange, pink - and UV option that dry in time so users can immediately handle marked items. Releasing paint on demand, flowmatic valve can mark dry, slightly wet, or oily surfaces. The 1/8 in. thick nib enables use on rough surfaces and can create fine-line or bold marks, and vapor-lock cap tightly seals nib to prevent tip dry-out.
---
Original Press Release:
Markal® Turns on the Brights for Valve Action® Paint Markers
New Fluorescent and Ultraviolet Options Bring Brilliance and Range to Paint Marker Line ELK GROVE VILLAGE, IL - The family owned and operated LA-CO Industries, a diversified manufacturer of the Markal brand, continues to offer customers the most wide-ranging line of bold, brilliant industrial marking tools with the introduction of the new and improved Valve Action Paint Marker. Designed from the inside out to better meet 21st century industry demands, the Markal line of Valve Action Paint Markers now feature faster drying, low chloride, Xylene-free paint, as well as a tough new nib and convenient ClipGrip cap, to increase marking performance while eliminating environmental and regulatory issues that may exist with other paint marking products. In addition, Markal enhanced its color options to include four new fluorescent colors (yellow, green, orange and pink) as well as an Ultraviolet option to serve as a solution for invisible marking needs. The new Valve Action Paint Marker is equipped with an improved "flowmatic" valve that releases paint on demand for smooth, continuous use. This innovative enhancement to the line leaves permanent, durable and weather, water and UV-resistant marks on dry, slightly wet or oily surfaces, including metal, wood, plastic, glass, rubber, ceramic, stone, paper and cardboard. With a new, xylene-free paint formula, Valve Action Paint Markers avoid concerns raised by California Proposition 65, EPA HAPS or the SARA 313 compliance. The majority of colors of Valve Action Paint Markers are low in chlorides and halogenated compounds, eliminating the need for a separate marker within the stainless steel fabrication and nuclear power industries. The new, distinctive fluorescent colors provide high visibility marks for instant identification, while the invisible paint marker, specially designed to make clear, invisible marks that illuminate as a bright blue mark when viewed under an ultraviolet or black life, is ideal for security, tamper-proofing and anti-counterfeiting. With these latest fluorescent and UV enhancements, the Valve Action line is now available in 19 colors, the largest color selection available by any manufacturer, providing vivid variety as well as organizational, eye-catching aid on any job. The new, faster drying paint also reduces smears so that users can almost always immediately handle marked items, increasing efficiency on a wide variety of tough, industry applications such as parts identification, quality control marking, layout and cut lines and color coding. With a more durable 1/8-inch thick nib, Valve Action markers can mark on rougher surfaces than conventional nibs, creating both fine-line and bold, thick marks that remain visible from long distances. To make the most of every marker, only the Valve Action line offers replaceable tips as well as a "Vapor-lock cap" that tightly seals the nib in order to prevent tip dry-out. A ClipGrip cap offers convenient pocket storage for quick use on the job while a new, stronger crimped barrel design prevents leakage. "LA-CO has a 75-plus year tradition of knowing the ins and the outs of the industry and seeking innovation to increase performance on the job," states Skip Laubach, Product Marketing Manager for the Industrial Division of LA-CO/Markal. "The new and improved Valve Action Paint Marker is a perfect example of reinventing an already powerful product, from the paint formula to the marker design, so that it continues to meet today's tough standards." Valve Action can mark surfaces as cold as -50 degrees and as hot as 150 degrees Fahrenheit and is part of a broad family of Markal liquid paint markers including the new Pro-Line HP, Pro-Line®, Pro Max®, Pro-Wash® Removable Paint Markers, Ball Paint Marker® and Dura Ball®. To provide customers with a user-friendly resource, LA-CO/Markal created www.valveaction.com, where visitors can view an informative product video and request a free trial sample of the new Valve Action Paint Marker. Material Safety Data Sheets (MSDS), technical analysis, a surface application chart as well as a low halogen chart for stainless steel and nuclear applications are also available on the Web site. LA-CO Industries is a diversified manufacturer of the Markal brand of industrial marking products, the LA-CO brand of plumbing chemicals and supplies, and the All-Weather® brand of animal health marking products. Since 1934, LA-CO has manufactured the finest industrial marking and plumbing products. Based in Elk Grove Village, Illinois, LA-CO manufactures more than 2,000 products for the plumbing, HVAC, industrial, agricultural, lumber, welding and other industries. Today, LA-CO products are sold around the world through a network of 6,500 distributors in the U.S. and more than 50 countries globally. For seven decades, one overriding ideal has shaped the face of family-owned LA-CO and its extensive product offering: listening to the needs of the customer. For media inquiries, please contact Mandy Meszaros at (312) 946-6004 or mmeszaros@msinet.com. For more information, please contact LA-CO Industries, Inc./Markal at 1201 Pratt Boulevard, Elk Grove Village, IL 60007; (800) 621.4025, customer_service@laco.com or visit online at www.laco.com or www.markal.com.
More from Thermal & Heating Equipment