Paddle Wheel Flow Sensor suits low viscosity liquids.
Press Release Summary: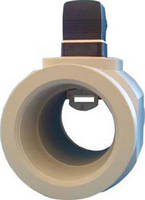 Available for pipe sizes of 1-2 in. with turndown ratios of up to 50:1, DR05 sensors measure flow of water and substances similar to water. Polypropylene pipe fitted with paddlewheel extends into area of flow and is set into rotation by flowing liquid. Rotary motion, sensed by Hall sensor, is output as series of pulses converted into 4-20 mA analog signal or into 2 limit contacts by optional electronics. Wetted materials include a PP housing, ECTFE rotor, and ceramic axels and bearings.
---
Original Press Release:

DR05 Flow Sensor with Plastic Paddle Wheel



Hudson, MA - PKP Process Instruments, A manufacturer and distributor of a wide range of process instrumentation is pleased to introduce model DR05 Flow Meter: (http://www.pkp.eu/eu/produkte/durchfluss/turbinen.php4).

Model DR05 paddle-wheel flow sensors are used wherever the flow of liquids having low viscosities must be reliably and economically measured, including but by no means limited to, cooling systems, demineralized water and aggressive/caustic liquids in the chemical industry.

The DR05 paddle-wheel flow sensor measures the flow of water and substances similar to water. The flow sensor consists of a section of polypropylene pipe fitted with a paddlewheel. The paddle wheel, which extends into the area of flow, is set into rotation by the flowing liquid. The rotary motion is detected by a Hall sensor and output as a series of pulses. The output frequency of these pulses is directly proportional to the flow rate. Alternatively, the pulsed output can be converted into an analog signal (4 to 20 mA) or into two limit contacts by optional integrated electronics. DR05 paddle wheel flow sensors are made completely of plastic; they have no metal parts. Wetted materials include a PP housing, ECTFE rotor and ceramic axels and bearings. Viton seals are standard (EPDM optional).

These devices are available for pipe sizes of 1" to 2" with turndown ratios of up to 50:1.

About PKP Process Instruments:
PKP Process Instruments is located in Hudson, MA. Its mission is to serve as the North American sales office and distribution warehouse for PKP Prozessmesstechnik products, Wiesbaden, Germany. PKP products are recognized worldwide for their process grade functionality and have an extensive record of excellent performance and quality.

Additional PKP flow, pressure, level and temperature products stand out with unique measurement and function capabilities.

For a complete view of the PKP Process Instrument product line and to make contact with our technical sales staff please see our web site (http://www.pkp.eu/) or give us a call at:

PKP Process Instruments, Inc., 10 Brent Drive, Hudson, MA, U.S.A., Tel: 978-212-0006, Fax: 978-568-0060

More from Construction Equipment and Supplies