Hydraulic / Pneumatic / Radial Shaft Seals
Pad Seal improves vacuum lift performance.
Press Release Summary: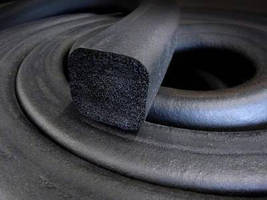 Formulated to endure rugged job sites while maintaining its integrity in temperatures from -40 to +215°F, Tough Seal™ features one-piece molded compound that maximizes tear strength and abrasion resistance while offering memory retention under various working conditions. UV protection reduces damaging effects of sunlight, chemical and mechanical properties promote performance, and 360° seamless outer skin acts as repellant against destructive oils and moisture to extend operational life.
---
Original Press Release:

New Vacuworx Tough Seal(TM) Improves Performance, Provides More Vacuum Lifts



TULSA, Okla. – The new patent-pending Tough Seal™, a pad seal formulated to endure rugged job sites while maintaining its integrity in extreme temperatures, is the latest innovation to be engineered by Vacuworx, a leading manufacturer and distributor of vacuum lifting equipment for handlers of heavy-duty pipeline or construction materials.



The Vacuworx Tough Seal™ features enhanced UV protection to reduce the damaging effects of sunlight, and is built to perform at temperatures of up to 215º F and down to -40º F. Tough Seal is chemically and mechanically stronger, improving the performance life by two to three times, compared with alternative pad technologies.



A 360-degree seamless outer skin acts as a tough repellant against destructive oils and moisture, especially in high-stress areas, improving the life of the pad seal and allowing for at least 60-percent more lifts, compared with other products based on end-user testing. The new one-piece molded compound improves tear strength, resists abrasions, and has improved memory retention under a variety of rigorous working conditions.



The Tough Seal was invented by Vacuworx and is compatible with all Vacuworx Lifting Systems, including MC Series and RC Series lifters, as well as competitive vacuum lifting equipment brands. The patent-pending product is geared toward the handling of heavy-duty materials such as pipe, steel plate, concrete slab, concrete road barriers, and HDD drill stem.



"We saw demand for a better product and that aligned with our vision of engineering an improved pad seal to eliminate wait times and save our customers money," said Vacuworx President Bill Solomon. "What we're delivering with the Tough Seal is a safer and more reliable solution that boosts performance levels in field applications. Increased productivity from your lifter translates into a more profitable bottom line."



For more information about the Tough Seal or to place order, inquiries can be directed to the Vacuworx Parts Department at (918) 259-3054 or parts@vacuworx.com.



About Vacuworx

Tulsa-based Vacuworx has been a leading provider of vacuum-based lifting equipment and heavy-duty material handling solutions for more than 15 years with sales and rental options for the pipeline, oil, gas, utility and road construction industries. Vacuworx Lifting Systems are customizable for various applications and lift capacities, offering contractors and municipalities a faster, safer and smarter method of handling pipe, plate, slab, concrete road barriers and HDD drill stem. With a growing base of distribution points in the US, Canada, Latin America, Australia, Europe and Africa, Vacuworx offers on-site maintenance and repairs, and stocks a full line of parts available for shipping 365 days a year. Learn more at www.Vacuworx.com.



Media Contacts



Deanne Vick

Vacuworx

(918) 591-3004

deannev@vacuworx.com



Todd Razor

Three Razors Media

(515) 953-8247

todd@threerazors.com

More from Machinery & Machining Tools