Packing seals without adhesives or expansion.
Press Release Summary: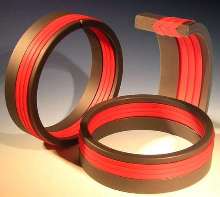 Pre-Energized Vee Packing design model features geometry that guarantees tight seal. It does not require tightening of packing gland against seal or use adhesives at installation. It also does not rely on packing material swelling, which means product is suitable for use in water hydraulics and bio-degradable fluids. Available in sizes from ¼-96 in. dia in 20+ material configurations, product is solid cross section; split section is also available.
---
Original Press Release:

Pre-Energized Vee Packing


New design simplifies vee packing installation, maintenance and it extends life

A new vee packing design model being introduced by American High Performance Seals (AHPS) features a unique geometry that guarantees a tight seal by simply installing it. There is no requirement to tighten a packing gland against the seal or to use adhesives at installation. Also the new seal design does not rely on the packing material to swell to achieve a seal, which means AHPS Pre-Energized Vee Packing is suitable for use in water hydraulics and bio-degradable fluids, in addition to traditional Hydraulic fluids, and many other hydraulic oils.

AHPS's new Pre-Energized Vee Packing is available in sizes ranging from ¼" diameter up to 96" and in over twenty different material configurations. Standard vee packing is of solid cross section but a split section Pre-Energized Vee Packing is available where fitting the solid model is impractical, particularly for retrofit applications. The American High Performance Seals Split Pre-Energized Vee Packing is also unique in requiring no adhesive or bonding process - simply fit and use.

Pre-Energized Vee Packing from AHPS is available in a wide range of standard sizes and materials and also as dedicated special service versions, including:

o FDA Compliant
o Steam service
o Hydraulic Press
o Water Hydraulics

American High Performance Seal's Technical Director, Derek Duncan commented in a recent interview, "We originally developed this seal for the larger bore cylinders you find in hydraulic presses. All around the world a Friday afternoon molding and stamping plant ritual has been to tighten the nut on the cylinder gland packing. This can be quite a task. Our product should make that practice a thing of the past. This seal design will also drastically extend service life where the re-tightening of the gland is virtually impossible because of inaccessibility or extreme difficulty in dismantling, ex.; Remote valves, hydraulic pistons, telescopic cylinders."

Contact for technical information:
Derek Duncan
American High Performance Seals Inc.
408 High Tech Drive
Pittsburgh International Industrial Park
Oakdale, PA 15071
Tel (800) 283-7140
Fax (412) 788-8816
Website: ahpseals.com
E-mail: ahpseals@ahpseals.com

More from Computer Hardware & Peripherals