Packaging Machines handle perfume and cosmetics.
Press Release Summary: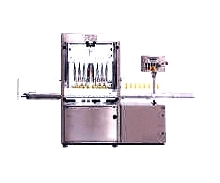 Filling and capping machines can handle up to 70 different package formats, including bottles of various shapes and sizes. ROBO semi-automatic filling/screw-on/push-fit machine has infeed/outfeed conveyor with push-fit module mounted on the conveyor. DOL inline dosing machine handles large range of products and viscosities including alcohol-based, foamy, oil-based and, fairly viscous semi-liquids at outputs up to 80 units/min. Both machines can work together.
---
Original Press Release:

PKB Offers Specialized Multiformat Liquid And Semi-liquid Packaging Equipment For The Perfume And Cosmetics Industries


Click below for high resolution photo

Chicago, March 27, 2002 (word count : 365)

The French company PKB, a specialist in the design, manufacture, and sale of filling & capping machines for the perfume and cosmetics industries, is offering its multiformat equipment that can handle five, ten, or as many as seventy different package formats. These units are ideal for a wide range of product lines, including eau de toilettes, perfumes, cologne, perfume extracts, after-shave lotion, gels, shampoos, conditioners, hair dye, foam bath, nail varnish, liquid makeup, liquid soap, and deodorant. Thanks to their ability to handle bottles of various shape and size, the range of machines needed for different product lines is simplified. This means savings in floor space, lower maintenance costs, and higher profits when offering a wide product line.

An example of the company's ability to create multiformat equipment is the ROBO type semi-automatic filling/screw-on/push-fit machine with manual feed of bottles and caps. This machine is configured with an infeed/outfeed conveyor and a push-fit module mounted on the conveyor.
It is possible to add a bottle extractor at the end of the line, as well as a removable packaging components feeder (pumps, caps, etc.), allowing temporary automation to increase output on long production runs. This line is the obvious choice for contract packers, as well as a perfume or cosmetics company requiring frequent format changes.

PKB has also developed the DOL, an inline dosing machine whose exceptional versatility, convenience and hygiene make it an ideal choice for cosmetics applications. The DOL handles a very large range of products and viscosities (alcohol-based, foamy, oil-based, fairly viscous semi-liquids) at outputs up to eighty units per minute. It is equipped with ceramic pumps and membrane valves that contribute to an optimization of a thorough cleaning of the filling circuit (no seals, no retention areas), straightforward, uncomplicated operations and exceptional durability. Its design ensures extreme versatility in terms of easy format changes, and it can be configured with a multiformat ROBO capper.

logo

photo A

photo B

photo C

The company will be displaying both units at the INTERPACK show being held in Dusseldorf, Germany, April 24-30, and can be found in Hall 6, Stand 6D14. PKB is seeking distributors in Canada. For more information, please contact

Mr Gary ENMAN
ESS PACKAGING MACHINERY
305 ROSETO AVENUE
Roseto, PA 18013
Tel: (610) 588 8579
Fax: (610) 588 3937
E-mail: pkb@wanadoo.fr

or

FRENCH TECHNOLOGY PRESS OFFICE
One East Wacker Drive, Suite 3740
Chicago, IL 60601
Tel: (312) 222-1235
Fax: (312) 222-1237
contact.ftpo@ubifrance.com

View other press releases in our website :
www.infotechfrance.com/ftpousa

Note to Editors:
Please advise us of publication of this press release and continue to send reader responses to F.T.P.O. This is the only way we can ensure the follow-up is done efficiently


More from Electronic Components & Devices