P-Cap Touch Controller supports large format sensing sensors.
Press Release Summary: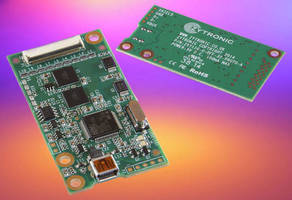 With 32-bit ARM® Cortex® M4 processor that can run at 168 MHz, ZXY110 improves speed, accuracy, and EMI stability of self-service touchscreens. Processor is accompanied by 2 ASIC devices that maximize touch detection performance, even through cover glass exceeding 10 mm thick. While 32-input version covers self-capacitive p-cap (PCT™) touch sensors with up to ~19 in. diagonals, 64-input version suits PCT sensors with 19–46 in. diagonals. Controler updates touch event coordinates in <5 msec.
---
Original Press Release:

Zytronic Unveils Latest Projected Capacitive Touch Controller Hardware



Enabling marked improvements in the speed, accuracy & EMI stability of self-service touchscreens



To support its portfolio of highly durable, ultra-large format projected capacitive (p-cap) touch sensing products; Zytronic has further strengthened its touch controller range. The ZXY110 is a high performance touch controller which is the next generation improvement over the widely accepted ZXY100, utilizing a 32-bit ARM® Cortex® M4 processor capable of running at speeds of 168MHz enabling Zytronic's self-capacitive p-cap (PCT™) sensors to set new benchmarks in responsiveness and precision. The processor is accompanied by 2 sophisticated custom ASIC devices which help minimise controller footprint, while maximizing touch detection performance, even through cover glass thicknesses exceeding 10mm.



The ZXY110 is offered in two different versions; the 32-input version covers PCT p-cap touch sensors with up to approximately 19 inch diagonals, while the 64-input version is suitable for PCT sensors with diagonals of between 19 inch and 46 inches. Connection with the PC is via a USB 2.0 interface.



Updating of touch event coordinates is carried out by the ZXY110 in less than 5msec, resulting in a satisfying user experience. This product's key attribute is proprietary new architecture and firmware providing industry-leading resilience to electro-magnetic interference (EMI). This ability to combat EMI comes from the new touch controller's 'smart' frequency-scanning function - where, the operating frequency moves dynamically between 1.3MHz and 2.5MHz in order to avoid detected environmental 'noise' that would otherwise prevent the detection of touch events.



Suitable for use with Windows 7,Windows 8 and Linux operating systems, this item of hardware is a plug & play human interface device (HID). The touch controller may also be utilized in conjunction with Zytronic's freely downloadable ZyConfigTM software tool, which enables touchscreen integrators to access and tune the controller's firmware settings, should they wish.



To ease implementation, the ZXY110 shares the same mounting arrangement as the company's widely-used ZXY100 touch controller. As a result it can be retrofitted in order to enable performance improvements to existing PCT based touch system designs. Furthermore, there is potential for OEMs requiring high volumes to enter into ZXY110 chipset agreements with Zytronic, in order to embed the controller onto a motherboard in space critical applications.



About Zytronic

Zytronic is the developer and manufacturer of a unique range of internationally award-winning touch sensor products. These products employ an embedded sensing element and are based around projected capacitive technology (PCT™) sensing. PCT offers significant durability, environmental stability and optical enhancement benefits to system designers of touch interactive, industrial, self - service and public access equipment. During 2012, Zytronic developed new know-how to create mutual projected capacitive technology (MPCT™), which enables multi-user and multi touch sensing in ultra large form factor sizes up to 84".



Zytronic products are used in electronic displays for self service and information systems, ATMs and gaming machines, as well as by military, computer, telecommunications and medical OEMs, and are available from its network of worldwide distributors. The company has its headquarters and state-of-the-art manufacturing facilities in Blaydon, Tyne & Wear in the UK.  In addition to ISO-approved manufacturing, these facilities are home to Zytronic's team of lamination, material science and electronics specialists who are responsible for ongoing product development in composite technology.



For more company information, visit Zytronic's web site at www.zytronic.co.uk or find us on



Contact details for sales enquiries and regional representatives:

Asia - http://www.zytronic.co.uk/how-to-buy/sales-channel-partners/asia-pacific/

Americas - http://www.zytronic.co.uk/how-to-buy/sales-channel-partners/americas/

EMEA - http://www.zytronic.co.uk/how-to-buy/sales-channel-partners/europe-middle-east-and-africa/



Issued by:

Birgit Schöniger / Mike Green

Pinnacle Marketing Communications Ltd

Green Park House,

15 Stratton Street, London, W1J 8LQ, UK

Tel: +44 (0) 20 8429 6554          

Fax: +44 (0) 20 8868 4373

Email: b.schoeniger@pinnaclemarcom.com / m.green@pinnaclemarcom.com

www.pinnacle-marketing.com

More from Fluid & Gas Flow Equipment