Oxygen Valve integrates pressure regulator.
Press Release Summary: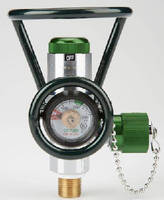 Intended for medical and industrial gas markets, OMNIValve offers single solution for oxygen delivery management, eliminating need for care providers to stock oxygen cylinders and regulator devices throughout facilities. Unit includes oxygen contents gauge, which minimizes risk of using empty cylinder during critical emergencies. Constructed with unibody, solid brass design, OMNIValve is suitable for hospice, hospitals, and EMS facilities.
---
Original Press Release:

Harrison Valve Introduces the All New OMNIValve Valve Integrated Pressure Regulator to the Industrial and Medical Gas Markets



SANTA ANA, Calif. -- Harrison Valve™ today released a new advanced Valve with Integrated Pressure Regulator technology to the Medical and Industrial Gas Markets named the OMNIValve.



"The OMNIValve offers a single solution for oxygen delivery management, no longer requiring care providers to stock oxygen cylinders and regulator devices throughout their facilities, rather they can now simply standardize their inventory using the all-in-one OMNIValve valve intergrated regulator, always insuring that each cylinder has delivery capability and is available for use. The OMNIValve also provides medical technicians a simple-to-operate device with an easy-to-read oxygen contents gauge, minimizing the risk of using an empty cylinder during critical emergencies," according to Paul Cramer, Principal at Harrison Worldwide,



Unique to Harrison Valve, the OMNIValve is constructed with a unibody, solid brass design that provides a very durable and safe all-in-one oxygen delivery system. The OMNIValve is available in many configurations to service all medical care facilities including hospice, hospitals, and EMS.



"By producing a highly engineered product at a competitive value, the OMNIValve allows gas manufacturers and suppliers to participate in an otherwise impenetrable medical gas market, offering them a new opportunity to generate additional revenues. This is another example of Harrison's ability to engineer very precise products at a value that creates opportunity," Paul further explained.



Harrison Valve™ has longstanding experience in designing and manufacturing products for multiple compressed gas markets, critical applications and OEM customers, and its operations focus exclusively on producing the highest quality valve products at uncompromised value. Harrison Valve™ products are produced to meet or exceed the highest US and international standards.



Harrison Valve is a global supplier of precision valve products serving a broad range of applications, industries and markets. Harrison Valve manufacturers a full line of high pressure cylinder valves including industrial, medical, residual pressure, acetylene and specialty products. Harrison Valve is the fastest growing cylinder valve manufacturer in the world today.



To learn more about Harrison Valve™ and its products, please visit www.HarrisonValve.com.



Contact: Ron Barnett

Email

www.HarrisonValve.com

Phone: 877-598-6657

International: 714-716-2023

Fax: 714-566-3869

More from Packaging Products & Equipment