Oxygen Transmitter offers split architecture option.
Press Release Summary: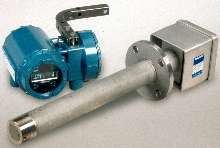 Available with integral or remote-mounted electronics, Oxymitter(TM) in situ, zirconium oxide-based oxygen transmitter is available with probe lengths from 18 in. to 12 ft. Separation of control unit and analysis section provides remote monitoring and programming capabilities for flue gas measurement. No sampling system required, and product provides configuration and measurement diagnostic data through HART® protocol.
---
Original Press Release:

Emerson Adds Versatility to Oxymitter(TM) with New Split Architecture Option


In situ oxygen transmitter available with integral or remote-mounted electronics

ORRVILLE, OH (April 1, 2004) - The world's first in situ, zirconium oxide-based oxygen transmitter for flue gas measurement is now even more versatile as a "split architecture" instrument. Emerson Process Management has made available the option of separating the Rosemount Analytical Oxymitter(TM) control unit from the analysis section to provide remote monitoring and programming for flue gas measurements.

"The remote electronics option provides users with more flexibility for those installations where the ambient temperatures at the probe location may be higher than 185° F (85° C)." said Douglas E. Simmers, global combustion products manager for Emerson. "Combined with PlantWeb® digital plant architecture, operators can observe data and perform system maintenance at the unit or remotely."

Regardless of the electronics mounting options, the probe inserts directly into a flue gas duct to measure oxygen in combustion processes with no sampling system required, reducing costs and improving accuracy. The flue gas measurements are used in a control system or by boiler operators to fine-tune burner fuel/air ratios for maximum efficiency, and for achieving the lowest NOx levels.

Through the HART® protocol, the Oxymitter provides configuration and measurement diagnostic data. When integrated into a PlantWeb digital plant architecture, this functionality results in superior control performance, optimization of plant assets, increased plant availability and reduced maintenance costs. Service diagnostics and calibrations can be performed remotely with a HART handheld communicator or a personal computer equipped with AMS(TM) Suite predictive maintenance software.

To take the guesswork out of calibration, the Oxymitter provides an on-line diagnostic that determines when calibration is needed. The Oxymitter electronics initiate an on-line impedance measurement of the sensing cell once every hour, which directly correlates to cell accuracy. This feature can trigger a fully automatic calibration via the SPS 4000, ensuring that the analyzer is always accurate. Also, many needless calibrations based on "time in service" are eliminated.

In addition, the Oxymitter is fully field-repairable as the probe's design provides convenient access to internal components so technicians can service the unit in-house. The cell and heater/thermocouple are fully field-replaceable.

Adaptable to any existing oxygen probe installation, the Oxymitter is ideal for large and small combustion processes like industrial boilers, process heaters, kilns and reheat furnaces. Probes are available in lengths from 18 inches to 12 feet, and optional accessories for the Oxymitter include:

o Auto calibration gas sequencer
o High temperature accessories for temperatures up to 1832° F (1000° C)
o Flame arrestors for applications in Hazardous Areas
o Abrasive shield for applications with high particulates

About Emerson Process Management
Emerson Process Management (www.emersonprocess.com), an Emerson business, is a leader in helping businesses automate their production, processing and distribution in the chemical, oil and gas, refining, pulp and paper, power, food and beverage, pharmaceutical and other industries. A division of Emerson, Rosemount Analytical (emersonprocess.com/proanalytic) includes a gas division in Orrville, Ohio, that is a leading supplier of on-line gas analyzers and systems for process, environmental and laboratory analysis applications. The best-in-class technology and expertise of Rosemount Analytical play a key role in Emerson's combining of superior products and technology with industry-specific engineering, consulting, project management and maintenance services. Emerson brands include: PlantWeb®; Fisher®; Micro Motion®; Rosemount®; DeltaV(TM); Ovation®; and AMS(TM) Suite.

About Emerson
St. Louis-based Emerson (www.gotoemerson.com) is a global leader in bringing technology and engineering together to provide innovative solutions to customers in electronics and telecommunications; process control; industrial automation; heating, ventilating and air conditioning; and appliance and tools. Sales in fiscal 2003 were $14.0 billion.

PlantWeb, Fisher, Micro Motion, Rosemount, DeltaV, Ovation and AMS are marks of Emerson Process Management. All other marks are the property of their respective holders.

More from Electronic Components & Devices