Gas and Chemical Sensors / Detectors
Oxygen Sensor suits critical care medical applications.
Press Release Summary: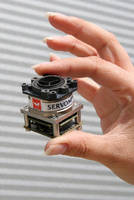 Measuring 33.5 x 30 x 46.5 mm, Paracube® Micro is based on paramagnetic oxygen cell technology and provides full measurement range of 0-100% O2. RoHS-compliant unit offers choice of analog or digital signal output, enabling integration within critical care ventilators, anatomical anesthesia, and patient monitoring applications. Micro can also be used in industrial applications including area monitoring and general gas analysis.
---
Original Press Release:

Hummingbird Paracube® Micro Sets New Standard for Oxygen Sensors



Crowborough, UK, 7 October 2009 - By combining Servomex's world-leading gas analysis technologies with cutting-edge manufacturing and design, the forthcoming Paracube® Micro from Hummingbird Sensing Technology establishes an exceptional new standard for oxygen sensors in critical care medical applications.

Delivering outstanding performance from a new compact unit, the Micro's 'next-generation' design ethos will offer a degree of system integration, flexibility, compliance and reliability currently unrivalled in the OEM oxygen sensor market.

Offering a full measurement range of 0-100% O2, the Micro utilises Servomex's proven paramagnetic oxygen cell technology to offer industry-leading levels of linearity, accuracy and reliability. With the non-consumable design meaning zero ongoing cost of ownership and the elimination of daily calibration due to excellent measurement stability, the Micro offers easy integration within critical care ventilators, anatomical anaesthesia, patient monitoring and other life critical healthcare applications.

Utilising the latest manufacturing techniques that require no lead solders or glues, the Micro measures just 33.5 x 30 x 46.5mm. This compact design, supported by bespoke housing options and a choice of analogue or digital signal output, enables easy physical and system integration into a variety of host instruments. As a consequence, the Micro can also be used in a variety of industrial applications including area monitoring and general gas analysis, while a robust construction also makes it suitable for incorporation into portable devices.

Full ROHS compliance not only also brings the Micro into line with the EU directive and other regional legislative requirements, but also insures against replacement for users where compliance is currently non-mandatory but potentially subject to legislative change - therefore securing excellent long-term cost-of-ownership. The Micro, as with all Hummingbird sensor modules, is assembled to the highest build quality at Servomex's state-of-the-art ISO 9001-certified manufacturing facility.

"The Paracube® Micro is a truly cutting-edge sensor that utilises the best possible technologies and techniques available today," says Chris Cottrell, Managing Director, Servomex.

"By listening to the voice of the customer during the development of Micro, Servomex has produced a product which not only redefines current expectations and performance in the current OEM market, but anticipates all requirements for oxygen analysis system design in the foreseeable future."

For more information about the forthcoming Hummingbird Paracube® Micro, contact the Servomex sales team at the European Business Centre (+31 (0) 79 330 1581 / 00800 737866390 Toll free in France, Holland, Germany, Belgium and the UK) Americas Business Center (+1 281 295 5800) or Asia Pacific Business Centre (+86 (0)21 6489 7570). For more information visit www.servomex.com

About Hummingbird Sensing Technology / Servomex Group Ltd

With more than 20 years experience in supplying gas sensors to the medical sector, Hummingbird Sensing Technology is a division of Servomex, the world expert in gas analysis.

The leading provider of reliable, accurate and stable gas measurement solutions to industries across the globe, Servomex is an acknowledged innovator in gas analysis. Servomex is the originator of and world leader in paramagnetic sensing technology and has an exceptional reputation in the development of zirconia, photometric and thick film technologies. The result is high-performance, cost-effective gas analysis, delivered through a portfolio of dependable products ranging from portable gas analysers to complex process solutions.

Servomex has extensive experience of working with multi-national companies across a range of industries including hydrocarbon processing, industrial gas and OEM markets, ensuring our knowledge and expertise closely matches the requirements of our customers.
Servomex is committed to providing excellence in customer service, offering full sales and service support through global business centres based in Houston, Texas; Zoetermeer, Netherlands; and Shanghai, China. By combining global expertise with local support, Servomex delivers a complete package of product and service that ensures customers improve output quality, maintain plant and process safety and meet legislative requirements.

Servomex is part of Spectris PLC, a leading supplier of instrumentation and controls to global markets.

More from Agricultural & Farming Products