Oxygen Electrodes last longer in plasma cutting.
Press Release Summary: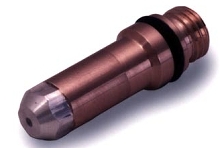 SilverPlus(TM) 200-amp silver/hafnium electrodes last up to 3 times longer than company's previous products. They fit company's Hypertherm HT2000, HT2000LHF LongLife, and MAX200 plasma cutting systems. Electrode has silver front end fused onto copper base. Hafnium emitter interfaces with silver, creating better adhesion and cooling than traditional copper interfaces. Hafnium erodes to approximately twice the depth of company's all-copper electrode.
---
Original Press Release:

Hypertherm's New SilverPlus(TM) Technology More Than Doubles Plasma Cutting Electrode Life


Hanover, NH, USA - New SilverPlus(TM) 200-amp oxygen electrodes from Hypertherm, Inc. are now available for three Hyperthem plasma cutting systems. Hypertherm HT2000, HT2000LHF LongLife and MAX200 plasma cutting systems featuring SilverPlus (patent pending) can now achieve dramatically reduced operating costs. In head-to-head comparisons with other silver/hafnium electrodes, SilverPlus demonstrated electrode life up to three times greater.

By fusing a silver front-end onto a copper base, Hypertherm process engineers have achieved a real breakthrough in electrode performance. The hafnium emitter interfaces with the silver, creating superior adhesion and cooling over traditional copper interfaces and retarding hafnium erosion as the electrode wears. SilverPlus allows hafnium to erode to approximately twice the depth of an all-copper electrode.

"If you're a Hypertherm plasma customer running several systems over multiple shifts, continuously cuffing with the 200-amp oxygen process, SilverPlus can't be beat," Phil Parker, Product Marketing Manager says. Hypertherm recommends SilverPlus for applications like steel service centers, heavy to mid-level fabricators, ship builders and large job shops. Hypertherm's all-copper electrodes continue to be available, however, for customers who conduct frequent changes in processes, amperages or material types.

"There are enormous advantages inherent in the technology, but SilverPlus is not a silver bullet," Parker cautioned. "It won't compensate for a system that is poorly maintained or has gas leaks, gas contamination or height control problems."

Hypertherm stresses that optimization of SilverPlus oxygen electrodes requires adherence to process parameters: the cuffing machine, plasma system and torch height control must be properly maintained. Cutting errors should be minimized, and pierce and torch height settings, plus gas flows and pressures must be correct. Under these conditions, SilverPlus will dramatically reduce parts consumption, resulting in savings in production and inventory costs. SilverPlus will also reduce the number or consumable changes, therefore increasing productivity and reducing overall cutting costs.

Hypertherm provides the best quality high temperature and material processing technologies in the world. Over the last 30 years, Hypertherm has led the industry in the technological development, design and manufacturing of plasma arc cutting equipment and service. Hypertherm serves a wide range of industrial metal-cuffing needs from its headquarters in Hanover, New Hampshire with subsidiaries, sales offices and partner representation worldwide.

More from Laboratory and Research Supplies and Equipment