Gas and Chemical Sensors / Detectors
Oxygen Deficiency Monitor features non-consumable design.
Press Release Summary: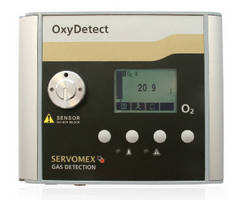 Designed for life safety applications, OxyDetect utilizes non-depleting Hummingbird Paracube® Micro paramagnetic sensor to monitor oxygen levels without sensor deterioration that affects traditional electrochemical sensors. Microprocessor-based diagnostics can be accessed via front panel digital interface. Suitable for indoor environments ranging from 5–45°C, OxyDetect offers isolated 4–20 mA output with linear measurement, output range of 0–25% O2, and fault alarm via mA jam to 0 mA.
---
Original Press Release:

Servomex Gas Detection Launches 'Game-changing' OxyDetect Oxygen Deficiency Monitor



Crowborough, UK – Servomex, the world leader in gas analysis technology, has announced its entry into the life safety market with the launch of the game-changing OxyDetect oxygen monitor.



The first product to be launched under the new Servomex Gas Detection brand, the OxyDetect is a safe area monitor which utilises advanced non-depleting paramagnetic technology to accurately monitor oxygen levels - without the sensor deterioration that affects traditional electrochemical sensors used in competitor detectors.



Designed for use in life safety applications, the OxyDetect utilises the Hummingbird Paracube® Micro paramagnetic sensor, whose industry-leading levels of linearity, accuracy and reliability have ensured its use as a trusted oxygen sensor for the OEM medical market. The OxyDetect therefore demonstrates several advantages over traditional technologies, ensuring users enjoy an unprecedented level of safety and performance as well as a lower cost of lifetime ownership.



The OxyDetect's non-consumable design ensures longevity and eliminates the costs associated with the regular replacement of electrochemical, galvanic or fuel cells, as well as the recognised problems of cell degradation when in use or kept as a stock item.  As the OxyDetect's paramagnetic measurement stability also eliminates the requirement for frequent calibration, users avoid frequent labour and downtime costs, incurred either when a traditional cell is calibrated or replaced due to anticipated expiration or sudden failure.



As well as significantly reducing the cost of ownership, saving time and money, the OxyDetect utilises advanced microprocessor-based diagnostics that are safe, reliable and easy to access via a simple front panel digital interface. Suitable for use in indoor environments ranging in temperature from 5°C to 45°C, the OxyDetect offers an isolated 4-20mA output with linear measurement for simple integration, an output range of 0-25% O2 and a fault alarm via mA jam to 0mA.



"Servomex Gas Detection is proud to deliver this breakthrough in life safety, which changes the game for a gas detection market used to unreliable and ultimately expensive consumable sensors," says Chuck Hurley, Managing Director, Servomex.



"The OxyDetect is unique – a gas monitoring system is only as good as the sensors it uses, and this is the safest, most reliable oxygen gas detector on the market."



CE Certification for the OxyDetect is pending and expected later in 2013. For more information about the world-leading Paramagnetic technology used in the Servomex OxyDetect, download the white paper from www.servomex.com/oxydetect.



For more information about the Servomex OxyDetectAsia Pacific Business Centre (+86 (0)21 6489 7570), European Business Centre (+31 (0) 79 330 1581 / 00800 737866390 / Toll free in France, Holland, Germany, Belgium and the UK), India Business Centre (+91 22 3934 2700), Latin American Business Centre (+55 11 5188 8166) and Middle East Business Centre (+971 6552 8073).



Servomex Group Ltd

Servomex Gas Detection is part of Servomex, a world leader in gas sensing technologies.

An acknowledged innovator in gas analysis technologies for more than 50 years, Servomex is the originator of and world leader in paramagnetic sensing technology and has an exceptional reputation in the development of zirconia, photometric and thick film technologies.



Servomex's commitment to providing a complete industry solution to gas analysis extends across our business, with the Hummingbird Gas Detection brand bringing our gas sensing to the life safety markets and the Hummingbird Sensing Technology brand delivering our technology to OEM partners. Servomex has extensive experience of working with multi-national companies across a range of industries including hydrocarbon processing, industrial gas and OEM markets, ensuring our knowledge and expertise closely matches the requirements of our customers.



Servomex is part of Spectris plc, a leading supplier of instrumentation and controls to global markets.

More from Electrical Equipment & Systems