Oxygen Concentrator helps lampworkers save fuel.
Press Release Summary: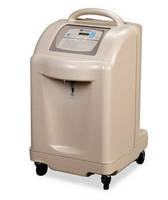 Offering long-term alternative to tanked oxygen, Regalia 10 LPM Glass Working Oxygen Concentrator provides source of optimal, regulated fuel flow for guaranteed color quality. Unit features patented ATF filtration design, providing steady 93–95% pure oxygen flow without dropping pressure or building up dangerous back pressure. Without flares in pressure, users can achieve any glass color without distortion.
---
Original Press Release:

New, Economical Lampworking Oxygen Concentrators Save Thousands Per Year on Fuel Costs



Bethlehem Burners has announced today the addition of Regalia 10 LPM glass working oxygen concentrators to their product line. The manufacturer has added the lampworking accessory to provide glassworkers with an economical long-term alternative to tanked oxygen and a source of optimal, regulated fuel flow for guaranteed color quality.



The Regalia oxygen concentrator is estimated to save lampworkers over $2,000 per year in place of tanked oxygen.



"One of the most common challenges our customers face is the high costs associated with lampworking, including unregulated tanked oxygen refills and fees," said Kate Hayes, technical support specialist at Bethlehem Burners. "After extensive in-house research, we have found that full-time artists would save over $2,200 a year in fuel costs by switching from tanked oxygen to an oxygen concentrator and never have to halt production to have their tanks refilled or replaced."



The Regalia 10 LPM oxygen concentrator available from Bethlehem Burners features a patented ATF filtration design, providing glassworkers with a steady 93%-95% pure oxygen flow without dropping pressure or building up dangerous back pressure. Without flares in pressure, users are able to achieve any glass color without distortion.



"In addition to substantial savings, the patented steady pressure of the concentrator guarantees professional glassworkers their intended colors, a vital component of their artwork," said Hayes.



Bethlehem Burners' most recent torch line has been designed to work fuel efficiently with an oxygen concentrator, allowing more fuel to flow through the torch at low-pressure settings. Unlike tanked oxygen, the Regalia oxygen concentrator requires eliminates leasing fees, handling charges, and Hazmat and transportation fees.



To learn more about Bethlehem Burners products or events, visit the company's or official Facebook page at www.facebook.com/bethburners.



About Bethlehem Burners

Bethlehem Burners, a division of Bethlehem Apparatus Company, Inc., is a manufacturer of surface-mixed glassworking torches and accessories since 1950. Reengineered for better performance and higher safety, Bethlehem Burners low-pressure torches are constructed entirely of stainless steel and feature the brand's signature wrap-around flame.



For more information please contact Katherine Hayes (610) 838-7034 or via email: khayes@bethapp.com

More from Communication Systems & Equipment