Oxygen Analyzers operate in clean and harsh environments.
Press Release Summary: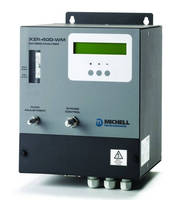 Featuring metallic sealed reference Zirconium Oxide Sensor, XZR-400, for detection in clean gases, and XZR-500 series, designed for flue gas analysis, provide maximized accuracy of O2 concentration measurement. Series XTP-600Y and XTM-600 are housed in explosion-proof enclosures and utilize thermoparamagnetic technology with no moving parts, ensuring operability when exposed to vibration and motion. All units measure O2 at both ppm levels and percentage O2 concentrations.
---
Original Press Release:

New Oxygen Analyzer Product Line from Michell Instruments



With over 30 years' experience in delivering highly reliable solutions in gas analyzis, the Michell Instruments Group has responded to the demand for an integrated product offering with a range of high performance Oxygen Analyzers.

The new product line uses recent developments in technology to measure of oxygen at both trace (ppm) levels and percentage oxygen concentrations and is suited for both clean environments as well as harsh and hostile applications. It is a natural step in Michell Instruments' growth strategy.

The variety of oxygen applications mean that a particular type of oxygen analyzer, developed with a specific technology, is required for each situation. The complete range of Michell Oxygen Analyzers use a selection of technologies each suited to a different set of applications.

The analyzers of the XZR-400 and XZR-500 series are based on the unique MSRS Zirconium Oxide technology for accurate and repeatable oxygen concentration measurement. The XZR-400 is designed for detecting oxygen in clean gases while the XZR-500 is designed for flue gas analysis. Due to their patented metallic sealed reference Zirconium Oxide Sensor, there is no need for reference air making the installation of both ranges simple and cost effective.

The XTP-600Y and XTM-600 Series are rugged industrial analysers housed in explosion-proof enclosures. The XTP 600Y is based on the Michell proprietary advanced thermoparamagnetic technology with no moving parts. This makes the sensor ideal for applications where it will be exposed to movement and vibration - such as on board an oil tanker.

The XTM-600 Series uses both the traditional paramagnetic (dumb-bell) oxygen sensor type as well as the electrochemical cell, making it highly adaptable in a range of applications in hazardous areas.

The Zirconium Oxide-based XZR-400 Series together with the XZR-500 Series Oxygen Analyzers are immediately available via the Michell Group distribution network. The clean gas versions can be obtained for wall installation or bench top use as well as portable units. The robust XZR-500 flue gas analysers are available with a control unit for bench top as well as wall mount installation.

If you would like more information on Michell's range of oxygen analyzers, please contact:

Rob Knowles

President

North America at Michell Instruments

11 Old Sugar Hollow Road

Danbury, CT 06810

Telephone (203) 744-6881 or (317) 535-2909

Fax: (203) 743-2051

e-mail: rob.knowles@michell.com

Web Site: www.michell.com.

More from Packaging Products & Equipment