Overhead Robot Tracks handle static loads up to 5,000 lb.
Press Release Summary: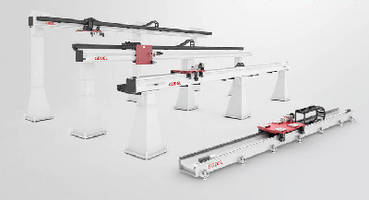 Built with linear motion components, Trackmotion TMO Series includes 3 types designed for elevated, wall, and inverted ceiling robot orientations. Four sizes accommodate smallest robot up to 2,500 lb range or static loads up to 5,000 lb. Rated for speeds up to 2.5 m/sec with acceleration of 2.5 m/s², tracks can be configured in any length, with multiple carriages and straight, cantilevered, and bridged leg options. Heavy duty roller bearings are completely enclosed to keep contaminants out.
---
Original Press Release:
Güdel Introduces Next Generation Overhead Tracks for Robots
Trackmotion TMO family delivers increased performance and reliability across the broadest product range

ANN ARBOR, MICHIGAN – Güdel Trackmotion TMO is the latest generation in overhead robot tracks from the world's leader in auxiliary robot motion. TMO innovations include higher performance and reliability, configurable and scalable designs and reduced lead times. Güdel is the only track manufacturer that is vertically integrated, from linear motion technology through the final track product.

"The new generation of robots are not the same as they were a decade ago," said Joe Campbell, Vice President, Sales and Marketing at Güdel Inc. in Ann Arbor, Michigan. "Today's robot is leaner, with a smaller footprint, less dead space and increased work envelope. Güdel has the same design philosophy. We have reduced mass and increased the stiffness of our entire family of TMO's, delivering more performance in a smaller footprint."

Güdel is on its third generation of Trackmotion products according to Campbell. "The TMF Trackmotion Floor family, introduced in 2013, broke new ground in terms of performance, reliability and mean time to repair. And this new generation of Trackmotion Overhead leverages the same proven linear motion components."

Trackmotion TMO is a family of overhead robot tracks built with the latest linear motion components from Güdel.
There are three types of TMOs designed specifically for elevated (E), wall (W) and inverted ceiling (C) robot orientations. TMOs come in four sizes to accommodate the smallest robot up to models in the 2,500 pound range or static loads up to 5,000 pounds. TMO is rated for speeds up to 2.5 meters per second with acceleration of 2.5 m/s2. Güdel floor and overhead tracks can be used with virtually any robot brand, and can be configured in virtually any length, with multiple carriages and straight, cantilevered and bridged leg options.

Cross beams have been redesigned to be lighter and more rigid. A special fabrication process makes inside corners tighter than similar beams. This allows closer tolerances for machining and parts, and carriages have been tailored to use less space which also expands the work envelope. Precision machining and careful engineering ensures a smooth, quiet ride, but when needed there is plenty of power and finesse to safely handle emergency stops even with a load fully extended on the robot arm.

The new heavy duty roller bearings used on TMOs are the same proven design for Güdel's latest generation TMF floor model Trackmotion. Since the bearings are completely enclosed to keep contaminants out, maintenance cycles are extended compared to the more common linear profile bearings on ordinary tracks. Güdel roller bearings can be replaced without removing the roller support or the carriage, slashing mean time to repair and reducing total cost of ownership.

"The real measure of success for any automation product is how it performs long-term, installed in manufacturing, under daily stress," said Campbell. "Güdel quality starts with our best-in-class linear motion components, and the TMO is the only overhead track in the industry designed so that roller bearings can be changed in 10 minutes."

Güdel TMO and TMF track units are commonly applied in demanding applications, including automotive body shops, arc welding, machine tool tending, die casting, foundry and painting. Güdel self-clearing bearing designs and protected rack structure eliminates the need for expensive and failure prone covers.

TMO Trackmotion continues Güdel's unique position as the premier supplier of robot tracks in the world. Güdel is the only manufacturer of floor tracks that is vertically integrated, from frame to gearbox; the only independent manufacturer with a dedicated team of customer service professionals; and the only manufacturer that can build tracks on three continents. For more information about Trackmotion TMO, gantries and other products or service from Güdel, go to www.gudel.com/us, or call (734) 214-0000 and ask to speak to sales.

About Güdel Inc.
Güdel Inc. is the US subsidiary of Güdel Group, a global manufacturer of robotic automation products, systems and services for welding and metal fabrication. Güdel supplies linear motion modules, robot track motion units, gantry robots and components to OEMs, systems integrators and machine builders serving the automotive, aerospace, logistics, heavy industrial and power generation industries. Güdel Inc. is headquartered in Ann Arbor, Michigan with 45,000 square feet in dedicated manufacturing space, providing North American customers with engineering, design, production, and, customer service support. Güdel Inc also operates a satellite engineering office in Troy, MI.

Güdel Group was founded in 1954. Headquartered in Langenthal, Switzerland, today Güdel operates in 21 locations worldwide.

Trackmotion™ TMO is the newest generation of overhead tracks from Güdel, and supports any robot type with more usable workspace envelope.

Contact Person

Joe Campbell
Vice President, Sales & Marketing
joe.campbell@us.gudel.com

Brian Huse
Marketing Specialist
brian.huse@us.gudel.com
More from Fluid & Gas Flow Equipment