Overhead Enclosed Track Conveyors are suited for garment handling.
Press Release Summary: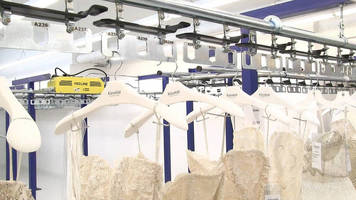 Used for storage and retrieval, Garment Handling conveyor system utilizes enclosed tube track conveyor along with RETRIEVER™ control system. Enclosed track design eliminates dangerous pinch points, while moving chain enclosed inside conveyor track reduces operational noise. Compact and modular system supports range of tight radius track curves that can be configured for virtually any space. Accessory products, such as storage racks, dust shields, and garment bags, are also available.
---
Original Press Release:

Pacline Overhead Conveyors Introduces Specialized Conveyor Systems for Garment Handling Applications



Mississauga, ONTARIO — Pacline is well known in the industrial world for its high quality conveyor products and expertise in custom designed systems for a wide range of manufacturing and warehousing operations.



Over the years PACLINE has been called upon to provide automation and handling solutions for an increasingly wider range of industries and products from sleds in amusement parks to moving props overhead on TV and theater sets.



Now PACLINE has developed its complete Garment Handling conveyor system. This storage and retrieval system utilizes their highly versatile enclosed tube track conveyor along with the RETRIEVERTM control system.



Improved safety for operators is a major benefit of the PACLINE Garment Handling system. The PAC-LINETM enclosed track design eliminates dangerous pinch points which are common in many other conveyor designs. This is an extremely important consideration for garment handling conveyors where the hands and fingers of the operators can come into contact with the track and moving chain.



The PAC-LINETM system is also compact and modular and with a wide range of tight radius track curves that can be easily configured for virtually any space.  Most Garment Handling systems are often installed in much smaller and often atypical spaces compared to industrial applications so this has become an important reason why customers have chosen the PAC-LINETM system for their Garment Handling solution.



Quite operation is another benefit that customers in the Garment Handling industry say makes PACLINE's system an excellent choice in this application area. The moving chain is enclosed inside the conveyor track, which reduces noises compared to other conveyor styles.



All parts and components are prefabricated and stocked in our warehouse so they are ready to ship.



Accessory products such as storage racks, dust shields and garment bags are also now available from PACLINE.



To see some of PACLINE's recently installed Garment Storage and Retrieval Systems in action, check out the videos on their website at www.pacline.com/applications/garment-handling.php.  You can also view their photo gallery to see installations in applications such as:

• Inmate property storage

• Uniform Storage and retrieval

• Retail Garment Displays

• Coat check system

• Costume and bridal gown storage and retrieval.



For further information about all products from PACLINE OVERHEAD CONVEYORS visit www.pacline.com.



About PACLINE OVERHEAD CONVEYORS

Since 1979, PACLINE Overhead Conveyors has been designing, manufacturing, installing and servicing high quality overhead conveyor systems. PACLINE has installed thousands of systems with over 2 million feet of conveyors in countries around the world. The company provides material handling solutions to a wide range of industries from manufacturing and warehousing operations to retail and entertainment applications. PACLINE has headquarters in Mississauga, Ontario (CANADA) and an engineering office and warehouse in Buffalo, New York (USA).

More from Laboratory and Research Supplies and Equipment