Overhead Door Adds 3-Inch-Thick Thermacore® AP 850 Commercial Sectional Door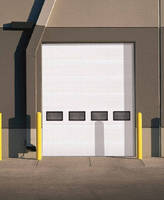 DALLAS  — Overhead Door distributors can now offer their commercial and industrial customers advanced thermal performance, strength and durability with Overhead Door Corporation's introduction of the Thermacore® AP 850, a 3-inch-thick insulated sectional door that is rated one of the strongest and most thermally efficient doors on the market. 



Overhead Door's Thermacore® AP 850 delivers the most advanced thermal performance values published by any major U.S. manufacturer – an R-value of 26, U-value of .038 and a third party tested installed U-factor of .14 – making it an ideal choice for commercial and industrial applications where extreme heat, cold, durability and ease of maintenance are primary concerns.



"We engineered the Thermacore® AP 850 to meet the demands of facilities that require advanced-performance materials," said Karen Cohen, Overhead Door's Senior Product Manager of Commercial Sectional Doors. "Agriculture, pharmaceutical, climate-controlled, industrial manufacturing and government sites are just some of the applications where this door is especially suited, and when purchased with an operator it's backed by an industry-leading, three-year door and operator system warranty."



The Thermacore® AP 850 is Overhead Door's most thermally efficient, commercial sectional door, due to its 3-inch-thick profile consisting of high-density, foam-injected CFC and HCFC-free polyurethane insulation, which offers the best insulation values per square inch. Additionally, the door is constructed with a patent pending dual-barrier, tongue-and-groove joint profile that creates a virtually impenetrable path for air leakage and infiltration between door sections, and PVC thermal breaks that reduce heat and cold transfer from front to back of the sections. Optional perimeter seals and barriers permit air infiltration of only .09 cfm/sq. ft. at 15 mph, when added to the door.



To reduce installation time, Overhead Door added continuous steel strips that run the width of each door section. This allows for flexibility in hinge and lite placement as well as making it easier to center mount a trolley operator. Distributors will realize further savings because Thermacore® AP 850 sections can be cut to size in the field for quick service and the ability to inventory sections for replacement calls. 



The Thermacore® AP 850 is available with a number of options to meet individual application needs. Window options include insulated glass, insulated tempered glass, and multi-wall polycarbonate (clear, white or bronze). Meanwhile, finish options include two coats of baked-on polyester paint available in four colors to blend with the design aesthetic of the facility. For applications with advanced security and safety needs, the door can accommodate extra locks, a sensing edge, photo-eyes, and a cable failure device.



For more information about the Overhead Door Thermacore® AP 850 commercial sectional door and its many features, visit www.overheaddoor.com,  like our Facebook page or follow us on Twitter.



About Overhead Door Corporation

Overhead Door Corporation, based in Dallas, Texas, is a leading manufacturer of doors and openers for residential, commercial, industrial and transportation applications. The company has five divisions: Access Systems Division (ASD), which features the Overhead Door and Wayne Dalton brands; The Genie Company, manufacturer of remote-controlled garage door opening systems; Horton Automatics, a manufacturer of automatic entrance systems; TODCO, the largest producer of truck doors for the transportation industry; and Creative Door Services, Western Canada's leader in providing door products and services to the residential, commercial and industrial markets. Overhead Door Corporation created the original overhead garage door in 1921 and the first electric garage door opener in 1926. Overhead Door now employs more than 3,500 people, has 22 manufacturing facilities, 78 regional sales and service and installation centers and more than 5,000 distributors and dealers that service national builders, national accounts, architects, general contractors and homeowners, as well as major retailers in the U.S. and Canada. Overhead Door Corporation is a subsidiary of Sanwa Holdings Corporation of Tokyo, Japan. For additional information, visit www.overheaddoor.com, our Facebook page or follow us on Twitter.

More from Health, Medical, & Dental Supplies and Equipment