Overcurrent Protector meets GR-1089 Issue 3 requirements.
Press Release Summary: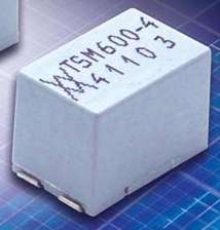 Suited for communications infrastructure applications, PolySwitch® TSM600-400 interrupts ac power faults to comply with standards such as UL 60950 3rd edition and TIA-968-A. Surface-mount, RoHS-compliant device incorporates 2 matched, low-resistance PPTC components. Each of these 2 resettable overcurrent protection components has typ resistance of 1.2 ohm, and unit has rated hold current of 400 mA at room temperature. Operating temp range is -40° to +85°C.
---
Original Press Release:
New Polyswitch® TSM600-400 Resettable Overcurrent Device Helps Communications Equipment Meet GR-1089 Issue 3 Requirements

MENLO PARK, Calif. -July 18, 2005- Raychem Circuit Protection, a business unit of Tyco Electronics, announces the PolySwitch® TSM600-400, low resistance, resettable overcurrent protection device for communications infrastructure applications. This RoHS-compliant device helps equipment comply with recent worldwide telecommunications standards such as: Telcordia GR-1089 Issue 3, UL 60950 3rd edition and TIA-968-A (formerly FCC Part 68), and can also be used in systems designed to ITU-T K.21 & K.21 recommendations.

The PolySwitch® TSM600-400 device, with its surface-mount configuration, small-footprint, and low-resistance is designed for use in high-density multi-port linecards and other space-constrained communications network equipment. The TSM600-400 device incorporates two matched, low-resistance PPTC (polymeric positive temperature coefficient) components in a single package, yielding highly balanced resistance characteristics. This newly developed PolySwitch device is primarily intended for use in "grounded" communications systems such as POTS and xDSL linecards.

"The TSM600-400 device's resettable functionality helps improve network reliability, reduce maintenance and repair costs, and enhance user-satisfaction," said Boris Golubovic, global marketing manager for Raychem Circuit Protection. "Combining a TSM600-400 device with SiBar® thyristor surge protector devices or Raychem Circuit Protection gas discharge tubes helps equipment designers comply with the lightning and AC power fault protection requirements defined in Telcordia GR-1089 Issue 3 that are scheduled to go into effect in 2006."

Each of the two resettable overcurrent protection components in the TSM600-400 device has a typical resistance of 1.2 Ohms, and the two components are typically matched to better than 0.3 Ohms. In addition to interrupting AC power faults, the device is designed to help equipment comply with Telcordia GR-1089 Issue 3 lightning tests, and has a rated hold current of 400mA at room temperature. This device is designed for operating temperatures between -40C and +85C, and withstands soldering temperatures of up to 260ºC for 60 seconds maximum. The devices are tape and reel packaged for compatibility with high-volume assembly processes. For further information or technical assistance, call (800) 227-7040, or visit www.circuitprotection.com.

Price: $1.00 in quantities of 100k units

Availability: Samples available now

Delivery: 8 weeks ARO

About Tyco Electronics

Tyco Electronics, a business segment of Tyco International Ltd., is the world's largest passive electronic components manufacturer; a world leader in cutting-edge wireless, active fiber optic and complete power systems technologies; and a provider of premise wiring components and systems. Tyco Electronics provides advanced technology products from over forty well-known and respected brands, including Agastat, Alcoswitch, AMP, AMP NETCONNECT, Buchanan, CII, CoEv, Critchley, Elcon, Elo TouchSystems, M/A-COM, Madison Cable, OEG, Potter & Brumfield, Raychem, Schrack and Simel. For more information, visit www.tycoelectronics.com
More from Materials