Overcurrent Devices automatically reset after fault.
Press Release Summary: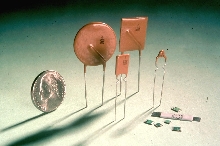 SF series of PPTC polymeric positive temperature coefficient resettable devices reset automatically after fault current is cleared and power is removed. Overcurrent increases resistance, reducing current to acceptable levels. After power is removed, circuits cool and resistance returns to normal levels, clearing device for operation. Models include surface mount SFmSMC and SFSMC, SFAL for protection of rechargeable battery packs, and SFRL leaded devices.
---
Original Press Release:
Polymeric Positive Temperature Coefficient Devices Reset Automatically

Bradford, PA - May 20, 2002 - KOA Speer Electronics introduces a new line of polymeric positive temperature coefficient (PPTC) resettable devices that reset automatically - offering a significant performance advantage over traditional fuses that must be replaced. KOA Speer SF series resettable devices will automatically reset after the fault current is cleared and power is removed, making them ideal for a number of sensitive electronic equipment applications that demand overcurrent circuit protection. SF series resettable devices are offered in a variety of shapes and sizes to suit many uses.

In the event overcurrent conditions develop KOA Speer SF series devices increase resistance with temperature, thereby reducing the circuit current to acceptable levels. After the power is removed, the circuits will cool and resistance will return to standard levels, clearing the device for operation once again.

KOA Speer surface mount SFmSMC and SFSMC series are available in sizes 1210 and 1812. Maximum voltage ratings range from 6 to 60V and maximum fault current ratings include 10A or 40A. These ratings are dependent upon the type of device selected. SFmSMC and SFSMC series are designed for placement with automated assembly machines. Plastic tape and reel packaging is available.

SFAL series devices are designed in a "strap" form ideal for protection of rechargeable battery packs. Selected components within this series feature various design advantages including low profile structure, reliable non-cycling protection, and protection for temperature sensitive battery packs such as NiMH and Lithium-based. The hold current range for this series is 0.7A to 7.3A with maximum operating voltage from 12V to 30V. Customized size and form factors are available.

KOA Speer SFRL leaded devices offer increased product reliability and assist in meeting regulatory requirements. The SFRL30 provides a maximum circuit voltage of 30V and hold currents from 0.9A to 9.0A. The SFRL60 provides a maximum circuit voltage of 60V and hold current as low as 0.1A.

SF series resettable devices may be utilized in a number of electronic applications including automotive, audio equipment, computer components, PDA's, POS equipment, test and measurement equipment, satellite video receivers, primary and secondary batteries, battery chargers, security and fire alarm systems, small and medium-sized motors, telecommunications equipment, toys and transformers.

KOA Speer Electronics is a QS 9000, ISO 9002 certified company that has been serving the electronics industry since 1980. An affiliate of KOA Corporation of Japan, KOA Speer is a leading supplier of surface mount and thru-hole resistors, tantalum chip capacitors, inductors, resistor networks, integrated passive components, and ferrite beads. These products are distributed primarily to the North American market for applications including automotive, telecommunications, computer and instrumentation.

For more information, contact Dawn McGriff, KOA Speer Electronics, Inc., Bolivar Drive, P.O. Box 547, Bradford, PA, 16701. Phone: 814-362-5536, ext. 266. Fax: 814-362-8883. Web site: www.koaspeer.com.
More from Sensors, Monitors & Transducers