Oven Manufacturer Turns to Serapid for Help with Space Constraints in Oven Loading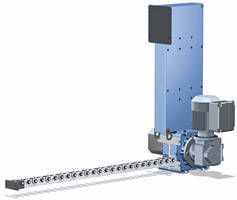 SERAPID's compact push/pull chain integrated into ovens with space constraints

SERAPID, Inc of Sterling Heights, Mich., provided several RollBeam push-pull rigid chain systems to an oven-manufacturer. The compact storage capabilities of the Rigid
Chain, coupled with its ability to withstand the high temperatures of the ovens, make it an obvious choice for moving parts in and out of the ovens.

Precision Quincy of Woodstock, IL (www.precisionquincy.com), utilizes the push-pull
systems to move carts into their ovens, which can be as hot as 1000º F. Wayne Stanek,
Vice President at Precision Quincy explains, "the Rigid Chain works very well in a
confined space, especially when there isn't room for a pit to be dug for hydraulic or
other mechanical systems."

The systems supplied by SERAPID include the RollBeam push-pull unit. The chain
pushes out of the magazine, which is typically attached to the rear end of the unit, and hooks on to the cart. The cart is then loaded by an overhead crane with material weighing up to 40,000 pounds and pushed into the oven. They have systems in the field
which have been working for over 10 years.

Precision Quincy builds ovens for a number of industries whose products and/or
services require some form of heat processing. These include: annealing, aging,
curing/drying, heat treating, and pre-heating.

The RollBeam can be used for vertical as well as horizontal transfer, since the chain is stored either above or below the path of travel. It features a transfer speed of up to 6.5 feet per second as well as a travel distance of one meter (3.3 feet) to virtually unlimited. Standard models cover applications up to 50 tons at a practically unlimited stroke length.

SERAPID specializes in horizontal and vertical motion through the use of our Rigid
Chain Technology. The Rigid Chain is a telescopic mechanical actuator that is flexible in one direction and rigid like a steel beam in the other. Their products are best used with long strokes, heavy loads and in extreme environments. SERAPID lift and push pull solutions are used in a number of industries including, entertainment, stamping, nuclear, automotive, manufacturing, and kinetic architecture.

For more information, visit serapid.usor www.serapid.com, or call 800-663-4514 (toll-free) or 586-274-0774 (direct). Follow SERAPID on Facebook and Twitter or join their mailing list.


More from Thermal & Heating Equipment