Outwater Expands its Line of Plastic & Aluminum Extrusions x.
Press Release Summary: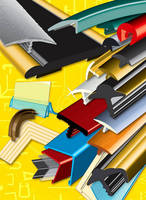 Available in numerous sizes and colors, extrusions come in thousands of flexible, semi-rigid, and rigid material profiles. In addition to standard styles, such as Tee and Bumper Moulding, Magnetic Moulding, Mirror Moulding, and Shelf Edging, other specialized Extrusions and Mouldings are available.
---
Original Press Release:

Outwater Expands its Line of Plastic & Aluminum Extrusions



Outwater Plastics opened its doors for business in August 1972 as the vendor of a single product, Tee Moulding, available and stocked in just about all sizes, colors and woodgrain finishes.

Today, Outwater [Outwater Plastics Industries, Inc. + Architectural Products by Outwater, LLC], the largest stocking distributor of Plastic and Aluminum profile Extrusions in the United States, has expanded this line to offer and stock over 10,000,000 feet of ready-to-ship Extrusions, available in thousands of flexible, semi-rigid and rigid material profiles in numerous sizes and colors.

Styles include Tee and Bumper Moulding, Accent Moulding, Acrylic Rod & Tube, Adhesive Trim Moulding, Angle Moulding, Banner Moulding, Baseboard Moulding, Chair Edgeguard, Channel Moulding, Cladding, Clamp Moulding, Corner Channel, Cove Moulding, Crib Moulding, Decorative Trim, Display System Extrusion, Door Track Extrusion, Double Spline, Dust Seal, Edgebanding, Plastic Frame Moulding, Carpet/Floor Moulding, Half Round Trim, Hanging File Folder Moulding, Hinge, Magnetic Moulding, Mirror Moulding, Panel Joiner Moulding, Panel Retainer Moulding, Picture Frame Moulding, Pilaster, Poster Holder Moulding, Price Tag Moulding, PVC Rod, Store Fixture Moulding, Shelf Edging, Sign Holder Moulding, Slatwall as well as other highly specialized Extrusions and Mouldings.

For further product information, please click the enclosed links or copy and paste them into your web browser:

Link #1: Outwater's Extrusions:
http://www.outwatercatalogs.com/lg_display.cfm/catalog/Master_2012?useSearchForm=single&page=10

Link #2: Outwater's Extrusions:
http://www.outwatercatalogs.com/lg_display.cfm/catalog/Master_2012?useSearchForm=single&page=11

About Outwater [Outwater Plastics Industries, Inc. + Architectural Products by Outwater, LLC]: Outwater can be contacted Toll Free at 1-800-631-8375 (For sales and product information in the USA & Canada) / 1-201-498-8750 (For sales and product information outside of the USA & Canada) or viewed online at www.outwater.com

From the vendor of a single product in August 1972, Outwater Plastics Industries, Inc. + Architectural Products by Outwater, LLC, with sales and distribution facilities in New Jersey and Arizona, are recognized today as well established international manufacturers and stocking distributors of more than 65,000 standard and innovative component products required by woodworkers, cabinet and furniture manufacturers, builders, remodelers, designers, architects, point-of-purchase and display fixturing manufacturers, OEM's, as well as a very diversified range of other commercial and retail end users.

Major Product Categories include Plastic & Aluminum Extrusions; Lighting and Lighting Accessories; Furniture, Cabinet & Store Fixture Components; Knobs & Pulls; Casters; Fasteners; Laminates; The FOGA Exhibit & Display Fastening System; The Klem Connector; Literature Displays; Slatwall; Sign Holders; P.O.P Components; Display Motors & Turntables; Pedestals; Injection Molded Parts; Brass Tubing & Fittings; Surfacing Materials; Interior & Exterior Polymer & Wood Architectural Mouldings & Millwork; ORAC DECOR and DEM Architectural Mouldings & Millwork; Columns & Capitals; Balustrading; Wrought Iron Components; Decorative Stamped Steel & Polymer Ceiling Panels; Wainscoting; Wall Coverings; Fireplace Surrounds; Plastic "Glass" Block; Plaster Architectural Elements; Period & Contemporary Hardware; Kitchen & Bath Accessories; Kitchen & Bath Cabinetry and Vanities... and so much more!

Contact:
Joey Shimm, Director of Marketing
Outwater Plastics Industries, Inc. + Architectural Products by Outwater, LLC
(201) 498-8750

More from Communication Systems & Equipment