OTDRs certify LAN, campus, and WAN fiber networks.
Press Release Summary: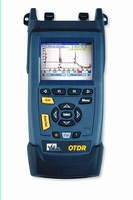 Designed for installation/troubleshooting of fiber networks, 33-960 Series of Micro OTDRs have 33-962-1 video inspection probe, 1 button autotest function, and short attenuation and Event Dead Zones. They offer accurate characterization of connectors and splices. With 33-962-5 certifying OTDR option, units provide full certifying instrument with clear PASS/FAIL indications for every link. They are available as 850/1,300 nm (multimode) or 850/1,300/1,310/1,550 nm (multimode and single mode).
---
Original Press Release:

New Handheld OTDRs are Ideal for Certifying Fibre Networks



27th August 2008

A new range of lightweight, rugged, handheld Optical Time Domain Reflectometers (OTDRs) is now available, which offers high measurement precision, fast data acquisition, ease-of-use and a variety of useful features.

Increasing bandwidths in LAN and fibre optic cabling means that more in-depth testing and certification of networks is now required. The 33-960 Series of Micro OTDRs from IDEAL INDUSTRIES are designed for the installation and troubleshooting of LAN, campus and WAN fibre networks. The combination of precise measurement, a one-button 'Autotest' function for ease-of-use, and short attenuation and Event Dead Zones, results in a unit that provides accurate characterisation of connectors and splices, as well as fast and reliable fault location - even on the shortest of network links.

The options available on the 33-960 Series include the 33-962-5 Certifying OTDR option. This provides the user with a full certifying instrument with clear 'PASS/FAIL' indications for every link. Distance, loss and Optical Return Loss (ORL) for each event are reported in a trace summary table, making full certification of the link possible. The unit is therefore ideal for Tier-2 certification of enterprise networks.

Amongst other options and accessories is the important video inspection probe. IDEAL INDUSTRIES' European General Manager Tony Kumeta comments: "Dirty connectors is one of the primary reason for failures in fibre optic networks. The 33-962-1 video inspection probe helps users document and troubleshoot fibre optic installations, by providing visual inspection of connectors. Unlike optical microscopes, video probes offer 100% eyesight protection, as well as the ability to store connector images on the OTDR, for later download to a PC via the unit's USB port."

Other key features include a Manual Mode that enables users to define all test parameters and a Real-Time mode for troubleshooting and identification of intermittent problems. Alternatively, the 'Auto Test' function can be used. The instrument automatically selects the optimum test configuration for the link being tested, thereby helping users of all levels to obtain accurate and meaningful test results.

The 33-962-5 option also includes a Macro Bend Detector, which was developed to help users pinpoint areas along a single mode fibre where the bend radius is too small. This feature is particularly useful when troubleshooting at splicing cassettes or patch cords, where macro bends can cause excessive attenuation. Without this option, macro bends are very difficult to detect or are often confused with splices.

The 33-960 Series is available as either an 850/1300nm (multimode) or 850/1300/1310/1550nm (multimode and single mode) OTDR. Each unit comes in a kit containing ruggedised carry case, PC software, rechargeable batteries and wall charger. PC software is included as standard, with reports in BellcoreTM format. The units also come with interchangeable fibre adaptors, with a wide variety of available configurations.

For more information on the 33-960 Series Micro OTDRs and additional accessories, please call 01925 444446 or visit the website at www.idealindustries.co.uk . Alternatively, you can contact IDEAL INDUSTRIES on Ideal_UK@idealindustries.com

About IDEAL Industries, Inc.

Ideal Industries, Inc. is one of the world's largest manufacturers and suppliers of quality tools and test products supplies for the electrical and data communications markets. Since1916 the company has built a solid reputation as an engineer of innovative and trustworthy products. Ideal offers more than 6,000 proven, predictable items to professionals across the electrical, construction, maintenance, data communications, telecommunications, cabling and original manufacturing industries. The company's divisions include Electrical, DataComm, Wire Processing and OEM Connection Systems.

Ideal is a privately held corporation headquartered in Sycamore, Illinois with additional manufacturing and distribution facilities across USA and Canada. International sales facilities are located within Europe in UK, Germany and Australia.

www.idealindustries.com

Reader Enquiries/Advertising:
Mrs Kathrine Jensen
Sales & Marketing Coordinator
IDEAL Industries (U.K.) Ltd
Unit 3, Europa Court
Westbrook
Warrington
Cheshire WA5 7TN
www.idealindustries.co.uk
Tel: +44 (0) 1925 412 934
Fax: +44 (0) 1925 445 501
Email: Kathrine.Jensen@idealindustries.com

More from Controls & Controllers