Orion Manufacturing Puts a Used Danly Press on AirLoc 900 Series Pads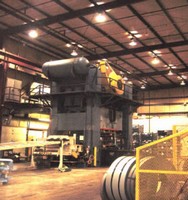 Orion Manufacturing occasionally adds used, rebuilt presses to support their
automotive part stamping business. Recently Gerry Stedman, manufacturing
engineer, added a Danly S4-800 ton press with rolling bolster to their Ionia Michigan
facility. AirLoc 900 series pads were used to provide a stable, but isolated support
under the 144 x 72 press frame. Three layers of AirLoc 925 pad cut 32" x 20" were
placed under each foot as shown below, with metal shim plates added, as required,
to level the press. Also, AirLoc 910 pads were placed between the concrete support
and the rolling bolster, limiting transmitted forces from the press bed into the building
structure.

Gerry reports that the AirLoc 900 series pads are working perfectly under the Danly
press, and rolling bolster. AirLoc provides a large selection of elastomer and vinyl
pad types to accommodate a wide range of thicknesses, stiffnesses, and damping
factors for presses, machine tools and all types of reciprocating equipment. The
ability to cut pads in any shape or size, as well as stack pads together for specific
height requirements and stiffnesses is a real advantage for special applications.

For more information regarding AirLoc Pads, Wedgmounts® or other leveling &
isolation products, contact our headquarters in Franklin, MA or your regional AirLoc
Representative.

More from Services