Orbital Wrapping Machines provide 360° plastic film wrapping.
Press Release Summary: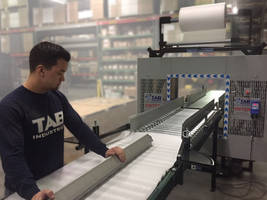 Allowing foam sheet to be wrapped around products, Orbital Stretch-Wrapping Machines with dispensing system provide operator to quickly pull desired length of foam sheet. Unit is used for protecting delicate, oddly shaped products during shipping and handling.
---
Original Press Release:
Orbital Wrapper Features New Foam Dispensing System
TAB Wrapper Tornado Allows Convenient Addition of Protective Foam
Orbital stretch-wrapping machines in the TAB Wrapper Tornado line from TAB Industries, LLC, Reading, Pa. (www.tabwrapper.com), feature a new dispensing system (optional) that allows foam sheet to be easily wrapped around products during the plastic wrapping process for extra cushioning and protection. Storing a roll of foam, corrugated paper or other packaging materials on the wrapping machine, the new dispensing system enables the operator to quickly and safely pull the desired length of foam sheet from the roll and place it on the product or pallet load for wrapping between the product and the plastic film layers.
Ideal for protecting delicate and/or oddly shaped products during shipping and handling, and for protecting workers from products with sharp corners or edges, the dispensing system is available as an option on the company's entire line of TAB Wrapper Tornado orbital wrappers. The growing line encompasses the fully automated Perfect Storm, the Skinny Series for long, low profile products, and three semi-automated models that accommodate products as large as five feet x five feet of infinite lengths. Custom sizes are also available. The TAB Wrapper Tornado secures loads to their pallets by wrapping plastic film 360 degrees around and under both the load and the pallet to create a unitized load that improves protection, safety and stability in transport and storage.
Contact:
Andy Brizek 
TAB Industries, LLC
2525 N. 12th Street
Reading, PA 19605
Phone: 610-921-0012
Related