Optrex America Introduces New Compact TFT LCDs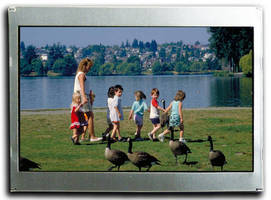 Plymouth, MI, April 18, 2011 - Leading LCD manufacturer Optrex America has introduced a
new family of compact LCDs with a range of advanced features for a variety of industrial, medical and handheld applications.

The new 5" diagonal LED-backlit WVGA (wide VGA 800×480 resolution) TFT-LCD features Optrex's Super Wide View (SWV) technology with viewing angles of 85/85/85/85 and true outdoor readabity. It has a slim design, with a total thickness of only 3.9 mm, and provides high brightness (800 cd/m2), a 900:1 contrast ratio, a wide operating temperature range of -20º to 70ºC, and a standard LVDS interface. A touch screen version is also available. This display is ideal for industrial handheld applications, GPS, medical diagnostic devices, and more.

Optrex's new 3.5" QVGA (Quarter VGA 320 x 240) TFT-LCD features 400 cd/m2 brightness,
a 750:1 contrast ratio, viewing angles of 80/80/80/80, and a long lifetime LED backlight (50 K hours on average). This high-performance display is designed for industrial and handheld applications and medical diagnostic devices. A touch screen version is also available.

The new 5.7" VGA (640x 480) TFT-LCD offers a brightness of 500 cd/m2, a 500:1 contrast ratio, viewing angles of 70/70/70/70, and a standard CMOS interface. It features a very robust design for reliable performance and long lifetime in a variety of industrial applications.

Pricing for Optrex's 3.5" QVGA (P/N T-55596ABN) TFT LCD starts at $36.00 in sample quantities. For additional pricing information, contact Optrex America.

For more information, contact Jessica He at Optrex America, Inc., 46723 Five Mile Road, Plymouth, MI 48170. Tel: 734-416-8500; Fax: 734-416-8520; E-mail: jhe@optrexusa.com
For more information about Optrex LCD products and display technologies is available at www.optrex.com.

About Optrex

Founded in 1976 and headquartered in Tokyo, Japan, Optrex is a major LCD manufacturer that has followed an aggressive policy of growth and expansion and now serves customers through an extensive in-field network of application engineers and more than 100 sales and distribution offices throughout the world, including Optrex America Inc. in Plymouth, MI, USA. As a leading designer and manufacturer of flat panel displays, Optrex provides several strengths of interest to OEMs including a 35-year track record, broad product and technology offerings, a clear focus on small to medium size displays, commitment to key markets, and a truly global manufacturing and support infrastructure.


Related