Optimization System provides defecting and sawing.
Press Release Summary: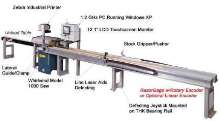 RazorOptimal System includes Easy Glide joystick, RazorGage with linear encoder feedback, board-grabber pusher for positive positioning, Model 1000 Whirlwind saw, Zebra printer, 1 GHz PC running Windows XP Professional, 12.1 in. LCD touchscreen, and RazorOptimal software. It offers optional modules that insert space balls and scribe face frame parts. Operator uses joystick to defect and grade parts, while RazorGage feeds stock. Linear encoder position feedback ensures 1.004 in. accuracy.
---
Original Press Release:

The New RazorOptimal is MORE than Just Another Optimizing System!


RazorOptimal, a high performance yet affordable optimizing solution for small shops, boasts optional modules that insert space balls and scribe face frame parts. Operator uses a joystick to defect and grade parts while the RazorGage feeds the stock. User-friendly PC interface networks easily. Linear encoder position feedback ensures 1.004" accuracy.

Implement the RazorOptimal Defecting & Optimization System from RazorGage to Optimize Accuracy, Productivity, and Yield.

RazorOptimal Standard Features
o Easy Glide joystick for defecting & grading.
o RazorGage with Linear Encoder Feedback
o Board-Grabber Pusher for Positive Positioning
o Model 1000 Whirlwind Saw
o Zebra Printer
o 1 GHz PC running Windows XP Professional. OS
o 12.1" LCD Touchscreen
o RazorOptimal Optimizing Software

RazorOptimal Optional Productivity Modules
o Inline Space Ball Insertion
o Inline Face Frame Scribing

RazorOptimal Overview
Like all RazorGage products, RazorOptimal is built to lead the industry in reliability, accuracy, and ease of use without wreaking havoc on your bank account. The RazorOptimal system includes all the components listed above as well as RazorDesktop software used to import multiple orders from you cabinet design software into a single editable database to which you may add grading information or input locations for optional Pocket Hole Drilling, Space Ball Insertion, or Face Frame Scribing.

Downloading
The RazorOptimal system allows the operator to download the saved RazorDesktop database via Ethernet, appends it to the current running database, and sorts it into TYPES by species, thickness, and width. You can process TYPES as they appear, navigate among them, or jump out to MANUAL mode and back as needed.

Defecting
Defecting boards is accomplished digitally using the Cast Aluminum Joystick to position the Line Laser at the start of a defect and depressing one of the two Defect Grading Triggers while dragging the line across the defect then releasing it on the other side. Defects can be digitized in any order or totally at random. When finished, press a thumb button to identify the end of the board and the RazorOptimal software searches the database selecting parts that will make the optimal use of the clear wood available.

Sawing
Load the part into the pusher and press GO. The RazorOptimal will feed the part, cycle the saw, and print labels while you continue to queue defected boards.

Productivity Modules
Productivity Modules allow the RazorOptimal to Optimize your Payback by performing other tasks inline in addition to sawing. Parts are flagged for scribe locations, and Space Ball locations in the Optimal Desktop software. The Scribing Module pre-marks face frame parts to increase throughput and accuracy at the layout table. The Space Ball Module inserts Space Balls into pre-moulded door stock.

More from Software