Optical Transmitter achieves 2.5 Gbps data rate.
Press Release Summary: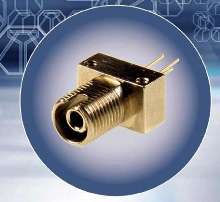 Suited for integration into fiber optic test equipment, 850 nm Series OPV314F/315F VCSELs are compatible with high-speed communications protocols including Fibre Channel, Gigabit Ethernet, ATM, and VSR. Incorporating power monitor diode that maintains constant output level, units exhibit max forward peak current of 20 mA with reverse current of 35 nA. Forward voltage is 1.6-2.2V, with max reverse voltage of 10 V. Devices are packaged in 0.5 x 0.583 in. FC-style receptacle.
---
Original Press Release:

OPTEK VCSEL Sub-Assembly Achieves 2.5Gbps Data Rate In Fiber Optic Test Equipment


CARROLLTON, Texas (December 16, 2004) - Targeting design engineers who require high performance optical transmitters for high speed communications links in fiber optic test equipment, TT electronics OPTEK Technology has developed an 850nm VCSEL (vertical cavity surface emitting laser) packaged in an FC style receptacle capable of data transmission rates up to 2.5Gbps.

Designated the OPV314F/315F Series, these transmitters combine high speed data transmission with high output power, making them ideal for integration into fiber optic test equipment. They are compatible with high speed communications protocols, including: Fibre Channel, Gigabit Ethernet, ATM, and VSR (Very Short Reach).

"The OPV314F/315F Series incorporate a power monitor diode that maintains a constant output level," said Gary Cawley, OPTEK Business Development Manager "This active feedback enables precise control of the optical power output, which is critical in test and instrumentation applications."

In addition, Cawley explained, the OPV315F devices incorporate an attenuation coating on the inside surface of the lens, which reflects approximately 40 percent of the light, reducing the back reflection that can occur in short-run fiber connections commonly used in test equipment. This prevents over-driving of sensitive detectors and increases the current into the monitor diode.

The OPV314F/315F Series devices exhibit maximum forward peak current of 20mA, with reverse current of 35nA (max.). Forward voltage is 1.6V (min.) to 2.2V (max.), with maximum reverse voltage of 10V. Total coupled power output is 500µW for the OPV314F Series; 250µW for the OPV315F (tested at If = 7mA on 50/125µm fiber). Operating temperature ranges for the OPV314F /315F Series devices is 0°C to +70°C.

The OPV314F/315F Series devices are packaged in a screw-mounted nickel-plated brass FC style receptacle with a footprint of 0.5" (12.7mm) x 0.583" (14.8mm), with a board-mounted profile of 0.319" (8.1mm). The OPV314F/315F and the OPV314YF/315YF devices are optically and electrically identical, except for their pin-outs.

According to Cawley, OPTEK will provide assembly services for volume orders of the OPV314F/315F Series VCSELs, including PC board mounting, second-level wiring, module assembly, drive circuitry or other design services.

Typical pricing in 1,000-piece quantities for the OPV314F/315F Series devices is $25.00 each. Samples are available for immediate delivery, with production lead-times from stock to 6 weeks.

For more information about the OPV314F /315F Series transmitters, contact TT electronics' OPTEK Technology at 1645 Wallace Dr., Carrollton, TX, 75006; call 972-323-2200, e-mail at sensors@optekinc.com or visit OPTEK on the web at www.optekinc.com.

OPTEK Technology is a leading provider of custom sensing solutions which incorporate the use of infrared, magnetic and fiber optic technologies focused on applications in office machines, industrial equipment, encoders, automotive electronics, military and high-reliability applications, and medical diagnostic equipment. Headquartered in Carrollton, TX, with additional facilities in Juarez, Mexico, the company is QS-9000 and ISO 9001 certified. OPTEK Technology was acquired by TT electronics in December 2003.

TT electronics plc is a global electronics company manufacturing a broad range of advanced electronic components, assemblies and sensor modules for the automotive, industrial, telecommunication, computer and aerospace markets.

Related