Optical Sorting System is designed for whole potatoes.
Press Release Summary: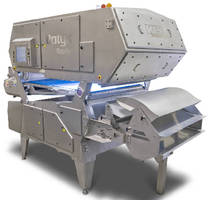 Gently handling product to avoid damage, Optyx® WPS achieves 3-way sort via air ejectors that remove foreign material, and deflector system that separates potatoes for rework from good potatoes. Color line scan cameras, combined with Raptor laser technology, lets system sort peeled and peel-on product. Differentiations that can be made to remove potatoes needing re-work include presence of peel, scab, or gross defects as well as user-defined standards for length, width, or shape.
---
Original Press Release:

Key Technology Introduces Whole Potato Sorting System



April 23, 2009 - Key Technology introduces its first optical sorting system for whole potatoes. Optyx® WPS for whole potatoes achieves a three-way sort using a combination of air ejectors to remove foreign material (FM) and a unique deflector system to separate potatoes for rework from good potatoes. Maximizing the removal of foreign material and providing extremely gentle handling to avoid potato damage, Optyx WPS improves product quality and protects downstream equipment while reducing labor costs and increasing yields.

Combining Key's proprietary high-performance color cameras with Raptor laser technology, Optyx WPS can sort peeled and peel-on product, differentiating peel from scab, bruise, rot, and green defects. Using cameras, Optyx WPS recognizes color, size, and shape to remove potatoes needing re-work based on the presence of peel, scab, or gross defects, as well as potatoes that fail to meet user-defined standards for length, width, or shape. Using a combination of Raptor laser technology with high resolution line scan cameras, Optyx WPS reliably detects and removes foreign material based on the structural properties of the material, as well as visible color.

As product passes through the sorter, it is scanned by cameras while still on the conveyor belt. Product is then launched off the end of the Optyx WPS belt for in-air viewing by the Raptor laser sensor. Using proprietary image processing technology, the sorter analyses the images, comparing each object to previously defined accept/reject standards. When foreign material is identified, the system activates the close-coupled high-speed air ejector system, which is made up of a series of high-flow valves spaced 0.25 inches (6 mm) apart that span the width of the system. While the foreign material is still air-borne, the air jets pinpoint the object to reject and precisely remove it from the product stream via the FM chute.

When off-grade potatoes are detected, the system activates the close-coupled deflectors, which span the width of the sorter. The system raises the appropriate deflectors before the off-grade potato reaches it, producing a ramp that gently deflects the potato into a higher trajectory and onto the top deck of the two-deck collection conveyor or chute. Good potatoes are allowed to pass over the lowered deflectors and gently slide onto the lower deck of the collection conveyor or chute.

Depending on the application, Optyx WPS features either a two-deck collection conveyor or a two-deck collection chute to decelerate good potatoes leading to further processing as well as off-grade potatoes leading to re-work or alternative streams. The collection conveyor and chute both feature curved landing zones on each deck that mirrors the trajectory of the potatoes for minimal impact.

The unique deflector design, the curved landing zones, and gradual deceleration all help avoid bruising, which is a common problem with other whole potato sorters. Compared to sorters that strike off-grade potatoes with more aggressive paddles as good potatoes fall through the system, Optyx WPS minimizes the impact to both good and off-grade potatoes. Optyx WPS's impact has been measured to be equivalent to dropping a potato only 1.7 inches (38 mm) onto a rigid surface. By eliminating even light cell damage, downstream blanchers and fryers produce the most uniform product color.

Optyx 6000 WPS handles up to 100,000 lb. (45 metric tons) of whole potatoes per hour. By sorting potatoes prior to cutting, processors protect the cutters' knives from damage caused by foreign material, which maximizes product quality and improves production line uptime. By automating the sort, processors reduce labor costs. By achieving a three-way sort with Key's powerful G6 digital image processing capabilities, potato processors can define their sort criteria to increase yields and speed payback.

When sorting whole potatoes after the peeler, Optyx WPS can be set up to identify potatoes with residual peel or scab and then send these to an abrasive re-peel. This application allows a processor to reduce the retention time of its steam peeler, which increases yields. When sorting potatoes for wedges or other specialty cuts, a processor can program Optyx WPS to analyze length and diameter and shape so only the most suitable potatoes are cut and optimal wedges are produced while rejected potatoes are used for other cuts.

In addition to removing foreign material and off-grade potatoes, Optyx WPS can collect data for process control purposes. Based on the presence or absence of peel, Optyx WPS can control the steam peeler upstream to optimize that process. Additionally, Optyx WPS can collect data on potato length, diameter, and shape to give the processor an early indication of the length profile of the finished product, enabling the processor to pull from another bin to adjust the overall length profile of packaged product, if needed.

Processors producing multiple potato products can easily change Optyx WPS to achieve the ideal sort for each product run. KeyWare® Application Packs translate data into action for each particular product, easing set-up and reducing the skill level required to operate at optimal performance. The patented, icon-based graphical user interface (GUI), which can reside locally on the sorter and can be accessed remotely via network or Internet, is easy to learn and use.

Featuring a modular design and proven, high-performance connectivity standards such as Camera Link(TM), FireWire®, and Ethernet, Optyx WPS ensures forward compatibility to maximize a food processor's long-term return on investment.

About Key Technology, Inc.
Key Technology, an ISO-9001 certified company, is a leading designer and manufacturer of process automation systems, integrated electro-optical inspection and sorting systems, and processing systems. Key® systems help processors to improve quality, increase yield, and reduce cost. With worldwide sales representation, the company maintains demonstration and testing facilities at its headquarters and manufacturing divisions in Walla Walla, Washington, USA, and at Key Technology BV in Beusichem, the Netherlands. The company's common stock trades on the Global Market tier of The NASDAQ Stock MarketSM under the symbol: KTEC.

Reader Inquiries To:
Anita Funk, Corporate Communications Manager
Key Technology, Inc.
150 Avery Street
Walla Walla, WA 99362 USA
Tel: 509 529 2161
Fax: 509 527 1331
Email: afunk@key.net
URL: www.key.net

More from Electrical Equipment & Systems