Vision and Imaging Sensors / Detectors
Optical Sensor detects UVB and ambient light.
Press Release Summary: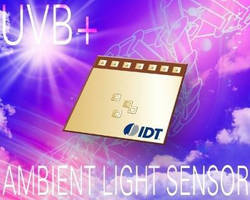 Featuring patented infrared light suppression, dual-channel Model ZOPT2201 is intended for smartphones, wearables, and other mobile technology. Sensor can detect overexposure and underexposure to sun's UV rays, measure light for screen controls, and provide indoor/outdoor contextual awareness in multi-sensor systems. Available in 2.0 x 2.2 x 0.7 mm LGA6 package, device features high UV sensitivity down to 0.022 µW/cm² per count and absolute sensitivity of 0.008–157,000 lux.
---
Original Press Release:

IDT Introduces New Sensor for Detecting UVB and Ambient Light in Mobile Applications



Dual-Channel Sensor Ideal for Smartphones and Wearables



SAN JOSE, Calif., – Integrated Device Technology, Inc.® (IDT®) (NASDAQ: IDTI) today introduced an optical sensor that accurately detects UVB and ambient light. Like the recently announced ZOPT2202, the two-channel ZOPT2201 offers new health and wellness capabilities for wearables and other mobile technology, but also features the ability to measure light for screen controls. Developed by engineers at recently acquired Zentrum Mikroelektronik Dresden AG (ZMDI®), the new device with patented infrared light suppression can deliver ultra-accurate high-performance UVB and ambient light sensing (ALS).



"This new sensor integrates two key features that can deliver exciting consumer experiences for cutting-edge mobile products like wearables and smartphones," said Uwe Guenther, product line director, Mobile Sensing, at IDT. "UVB detection is key for managing the health risks associated with sunlight, and the ALS technology's ability to accurately measure the intensity of ambient light assists in saving battery life by controlling display brightness. The tight integration of these capabilities helps developers create a more full-featured product while minimizing the bill of materials."



The sensor also supports "contextual awareness" in multi-sensor systems by detecting indoor/outdoor conditions.



The global market for mobile sensing solutions is expected to see strong growth with as many as 2.3 billion optical sensors projected by 2018. IDT's new UVB/ALS module is the latest product in the company's portfolio of leading environmental sensing solutions for the mobile industry.



The ZOPT2201 sensor is available in a compact LGA6 (2.0x2.2x0.7mm) package.



Key Features of the ZOPT2201

--  High UV sensitivity down to 0.022 µW/cm2 per count

--  Ultra-low VIS/IR sensitivity through advanced packaging technology (patent pending)

--  Integrated ALS spectrum that closely matches human eye response for high lux accuracy over different light sources

--  Very stable spectral response over angle of light incidence

--  Absolute sensitivity: 0.008 lux to 157,000 lux

--  Linear UV Index measurement (1 to >11) with an accuracy of ±1 UVI

--  Tailored temperature compensation

--  50Hz/60Hz light flicker immunity

--  Fluorescent light flicker immunity



Key Applications for Smart Phone and Wearable Platforms

--  Detection of overexposure and underexposure to the sun's UV rays

--  Adjustment of display according to the ambient light

--  Indoor and outdoor contextual awareness



Availability

The ZOPT2201 is available in production quantities. Customers can order samples and evaluation kits by contacting IDT (http://zmdi.com/zmdi-offices) or via product@zmdi.com.



About IDT

Integrated Device Technology, Inc. develops system-level solutions that optimize its customers' applications. IDT's market-leading products in RF, timing, wireless power transfer, serial switching and interfaces are among the company's broad array of complete mixed-signal solutions for the communications, computing, consumer, automotive and industrial segments. Headquartered in San Jose, Calif., IDT has design, manufacturing, sales facilities and distribution partners throughout the world. IDT stock is traded on the NASDAQ Global Select Stock Market® under the symbol "IDTI." Additional information about IDT is accessible at www.IDT.com. Follow IDT on Facebook, LinkedIn, Twitter, YouTube and Google+.



© 2016, IDT. IDT, the IDT logo and ZMDI are trademarks or registered trademarks of Integrated Device Technology, Inc. or its wholly-owned subsidiaries around the world. All other brands, product names and marks are or may be trademarks or registered trademarks used to identify products or services of their respective owners.



IDT Press Contact:

Dean Solov

Public Relations Manager

Phone: (408) 284-2608

E-mail: dean.solov@idt.com





Web Site: http://www.idt.com



More from Sensors, Monitors & Transducers